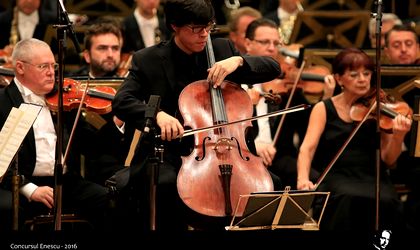 Zlatomir Fung won the Enescu Contest 2016, for the cello section on September 13 at the Romanian Atheneum. He played in premiere within the contest the Concert Symphony Op.8 by George Enescu. On the second place was Anastasia Kobekina (Russia), and on the third place Mon Puo Lee (Spain).
Fung, 17, is from US and and is a senior student at the Music Chamber section within New England Conservatory Preparatory School.
The cello player David Geringas, the president of the jury of cello section, announced the final results on the Atheneum stage.
The first prize of International Enescu Contest 2016 amounts to EUR 15,000. The winner of the contest can play in front of the Enescu Festival stage. The second prize value is EUR 10,000 and the third is EUR 5,000.
Georgiana Bendre