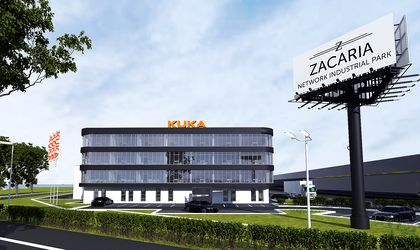 Real estate developer Zacaria signed one of the largest rental contracts in 2017 for an industrial space in Sibiu, with the German company Kuka Systems, which will expand its activity in Romania. The new Kuka production space is a built-to-suit project, within Network Industrial Park, covering more than 10,000 square meters.
The new facility was designed according to Kuka Systems' specifications and needs, considering that the German company is doubling its production and number of employees in Romania.
Located in a strategic position in the Eastern Industrial Zone of Sibiu, only 300 meters from the A1 Highway Sibiu-Nadlac exit, Network Industrial Park occupies a platform of 87,000 square meters, while the total built surface area will reach 46,000 square meters. The first hall of 10,700 square meters, comprising of over 8,700 square meters of industrial space and 2,000 square meters of office space, will be delivered to Kuka Systems in July 2018. The German investor is considering an extension in the same location, comprising of 10,000 square meters of industrial space, to be delivered in 2019, thus reaching a total area of 20,000 square meters.
"This relocation of Kuka Systems premises is a sign that the industry in Sibiu has a healthy growth pace and is becoming more and more competitive. Although the workforce has become a limited resource in the area, we have created the necessary conditions so that our client can offer an attractive work place, among other things, spacious and bright office spaces", said Emilia Ţepes, Zacaria's national sales manager.
"Sibiu has proven to be the right location for KUKA SYSTEMS. The company started in 2011 with only 4 employees, but gradually the number increased to 280, employees that are now working in Sibiu and all over the world," said Torsten Jörges, CFO Kuka Systems.
The rest of 26,000 sqm of industrial space from Network Industrial Park, which will be completed by the end of 2018, Zacaria is currently negotiating with several strategic clients interested in relocating their businesses. Each unit will be tailored to the client's specifications and fully equipped.