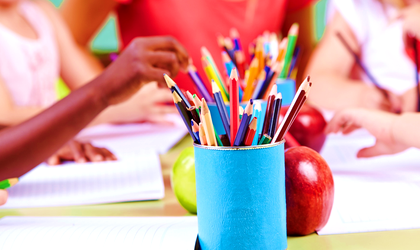 According to GfK's POS Tracking study for the writing instruments market, during the period of time July-September 2016, in hypermarkets and cash & carry, the market grew with 15 percent compared to last year's same period of time, reaching a total of RON 19.4 million.
"The shopping period for the start of the school year represents the most important period of the year for the sales of writing instruments, taking in account the fact that during the last years they represented over 40 percent of the total registered sales in a year," said Ileana Tilvan, Head of Digital POS Tracking GfK Romania.
From the point of view for the market's structure, the coloring instruments (colored crayons, felt-tip pens and waxy pencils) represent 24 percent of the market. They are surpassed in importance by the writing instruments (classic pencils, pens, graphite and mechanic pencils, rollers and fine-liners) that are dominating the market. With a margin of over 62 percent. The other two categories, the correcting instruments and the marking ones remain stable, with margins of under 10 percent.
The rollers' market, a segment that grew significantly in the last years, has registered a slow fall in the period back-to-school 2016, while the classic pencils' segment recovered from the last year's drop in sales. The recovery came from the rising sales of the 1, 4 and 3 pencils' packets.
The colored pencils remain the best sold instruments in the category. The growth rate continue to be double digit ones, but under the registered values of 2015. Alongside the waxy pencils, the whole category grew from a value point of view with 15 percent compared to last year's same period of time. The best sold versions are the packages of 12 and 14 unit, a significant growth being observed at the 18 felt-tip pens' packages.
The marking products were relatively stable in sales, while the correcting products registered an important growth of over 20 percent, both in value and volume.
Romanita Oprea