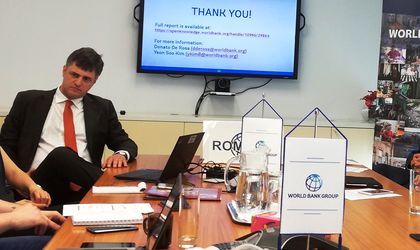 Romania has the largest poor population in the European Union, over a quarter of its inhabitants living with less than EUR 5 per day, according to Donato De Rosa, World Bank chief economist.
"There are huge differences between the opportunities in the big cities and the rural communities. Even if the GDP per capita of your neighbors, the Bulgarians, is lower, Romania has by far the largest poor population in the EU – over a quarter of people lives with less than EUR 5 per day," the official told journalists in Bucharest.
The study "From Uneven Growth to Inclusive Development", released by the World Bank, shows that even if Romania's GDP per capita rose from 30 percent of EU average to 59 percent in 2016, the disparities in economic opportunity, poverty across large regions and between urban and rural areas, and finally the poor state of infrastructure breaks the country in two separate populations.
According to Donato De Rosa, the rural areas are many decades behind the big cities.
"If you are born in a village, you will not have access to good education and an efficient medical system. There have been many improvements in Romania during the last 30 years, but there are still many people left behind. Among the causes that led to this situation are the poor quality of state institutions and their inconsistencies in terms of growth priorities and strategies, and the inability to adapt to change," De Rosa points out.
Too many state-owned companies
The World Bank indicate that another problem is the large share of state-owned companies in Romania, compared to other countries.
Romania's state-owned companies are less productive than private ones, and the fact that private firms are acquiring products and services from state-owned companies affects the efficiency in the private sector.
The poor education is another big issue in Romania, according to the World Bank.
Tatiana Proskuryakova, World Bank Country Manager for Romania and Hungary, points out that Romania should invest much more money into its education system.
"Education is not targeted where it is needed, and if you have the bad luck to be born in a poor family and in a poor area, you are finished. If I were to invest in Romania, I would invest in education," Proskuryakova said.