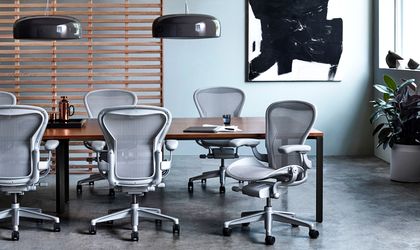 Workspace Studio, one of the few players in the office furniture solutions market focused on human-centric design and ergonomics, and the Unique Authorized Dealer Partner of Herman Miller in Romania, realized in the first six months of this year projects worth EUR 2.35 million, 17 percent higher than in the same period of the previous year. 
"It is a trend that has been remarked internationally for some years now, but its adoption in Romania has been strong since 2017, especially in the IT segment, from where 80 percent of our clients come from, " said Horatiu-Alexandru Didea, managing partner of Workspace Studio.
"The Herman Miller chairs, mainly Aeron and Sayl, are the best-selling products of Workspaces Studio in the mentioned period. Herman Miller is the brand chosen for ergonomic furniture in 30-35 percent of the projects we made in the first half of the year. As a matter of fact, the chair is probably the most important piece of office furniture. If the chair is of high quality and has an ergonomic design, developed to fit the movements and body shapes, the workstation can be comfortable, regardless of the design you choose. And from this perspective, the Herman Miller brand is nr. 1, with permanent investments in research and development," adds Didea.
While in Bucharest is still developing over 90 percent of ergonomic furniture design projects at Workspaces Studio, Timisoara is the city with the most dynamic development this year.
According to Didea, the companies in Timisoara show an increased interest in the ergonomic office solutions due to the development of the stock of commercial spaces and offices in recent years. Cluj, which is remarkable last year, slowed the development from this perspective.
For this year, Workspaces Studio forecasts a turnover of over EUR 4.5 million, up by at least 15 percent over 2017.