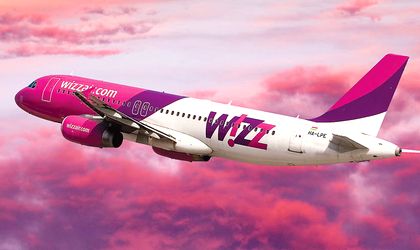 Wizz Air will open a new base in Sibiu starting August 19 this year, said Owain Jones, Chief Corporate Officer at Wizz Air earlier today. Additionally, the company added Suceava to the list of cities it operates from, with flights to London Luton being available from there.  
Together with the base opening this July in Iasi, the Sibiu one will be the company's seventh in Romania. "From August 19, we will start operating flights to Nuremberg, from August 20 to Milano and Madrid, and from August 21 to Munchen, all from the Sibiu base," added Jones. One way prices for the new routes range from RON 69 to Milan Bergamo to RON 129 for Madrid.
With an investment of EUR 100 million for the new Sibiu base, Wizz Air's presence will lead to around 100 jobs being created in the region. Furthermore, the company will hire 36 people from the area as part of the crew for the Airbus A320 aircraft allocated to the base.
The low-cost airline will also be operating flights from the Suceava airport to London Luton starting August 19, 2016, with prices starting at RON 129.
Also this summer, the company will start operating on the internal Cluj-Napoca to Bucharest route, with flights starting on July 22nd, 2016.
In the first three months of 2016, Wizz Air has seen around half a million passengers in Bucharest, added Jones. In 2015, the company transported around 4.5 million passengers from and to Romania, compared to 3.9 million in 2014.
Andreea Tint