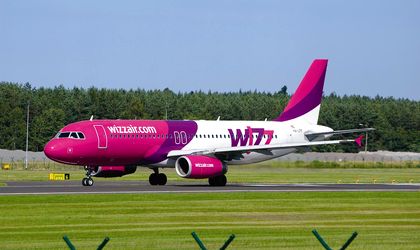 Hungarian low-cost airline Wizz Air has announced that it will invest EUR 100 million in expanding its operations from Budapest, including the acquisition of two Airbus A320 airplanes this March.
The company will launch a new flight on the Bucharest – Budapest route with an initial three flights per week. The information comes shortly after bankrupt Malev, Hungary's national airline, has announced that starting today it will no longer operate flights, this including the one from Budapest to Bucharest.
Wizz Air will also increase its number of flights on several existing destinations including London, Brussels, Madrid, Barcelona, Rome, Milano and Malmo.
The low-cost airline operates from four airports in Romania: in Bucharest, Cluj-Napoca, Tirgu Mures and Timisoara.  For 2011, Wizz Air has previously reported 2.76 million passengers, about 28 percent more than the previous year, and it has plans to boost the number by another 10 percent in 2012. At European level, the carrier transported approximately 11 million passengers from 15 operating bases in eight Central and East European countries.
Simona Bazavan