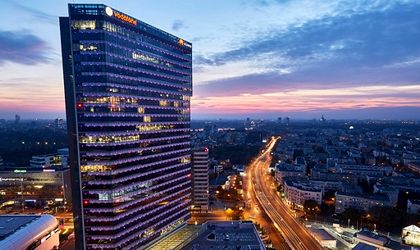 According to the last unaudited report of Globalworth Reals Estate, at H1 2018, the copany reached a portofolio of assets of 923,600 sqm in Romania and Poland, valued at EUR 2.13 billion, of which EUR 1.2 billion in Romania and around EUR 920 million in Poland. The company reported a net operating income of EUR 51.7 million în the same period.
In the first half of the year, Globalworth acquired three office buildings in Krakow, Warsaw and Wroclaw, and three land plots for future office developments in Bucharest.  In total, EUR 276.2 million were invested, predominantly in acquisitions and our development programme.
The company have also established a collaboration with Mindspace, the global operator of high-end, inspiring coworking space, extended the business relationship with in Romania, with three new locations to be opened at Globalworth properties in Bucharest, Globalworth invested USD 10 million in Mindspace to support their ongoing growth.
Within its development programme, the company completed Tower 2 of its Bucharest's Globalworth Campus project in Q2-18 and has now commenced the construction of the 34,800 sqm third and final tower, which is due for completion in Q4-19.
Development at the company's 42,300 sqm Renault Bucharest Connected joint venture is progressing is set for completion in Q1-19.  In addition, plans are being progressed for a further 130,000 sqm of new office projects in Bucharest and up to 175,000 sqm of light-industrial and logistics projects in Timisoara.
During H1-18, the Group negotiated the take-up or extension of 60,500 sqm of commercial space in Romania and Poland, resulting in 879,300 sqm of commercial space being let or pre-let as at 30 June 2018 to some 510 tenants, of which over 77 percent is to multinational corporates, with a weighted average lease length of 5.4 years.
Occupancy of the commercial standing portfolio was 94.6 percent at 30 June 2018, compared to 93.3 percent at 31 December 2017.
Normalised EBITDA from ongoing operating activities of EUR 38.7 million (H1-17: EUR 18.8 million), an increase of 106 percent over H1-17.
Globalworth Poland completed an EUR 450 million equity capital raise supporting its continued portfolio expansion, comprising EUR 300 million from Globalworth and EUR 150 million of new equity capital from the company's largest shareholder, Growthpoint Properties.