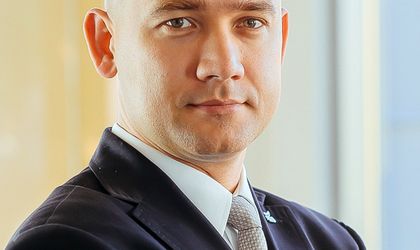 Last week saw the launch of OutsourcingPortal.ro, the Romanian language version of the largest Polish portal dedicated to the outsourcing industry. In Poland, the platform is operated by the ProProgressio Foundation, while in Romania the project is implemented in collaboration with Bucharest-based marketing consulting services company NNC Services Romania. 
ProProgressio Foundation CEO Wiktor Doktor spoke to BR about the newly-launched platform's role on the Romanian market, and about the importance of the Romanian outsourcing market in a regional context.
Georgeta Gheorghe
You just launched in Romania the local version of OutsourcingPortal.eu. What did it achieve in Poland and what are the expectations for Romania?
OutsourcingPortal in Poland is already working since November 2010. This is our sixth year and within this time OutsourcingPortal has become the main web platform for the outsourcing industry in Poland. We are not limiting our communication to BPO (Business Process Outsourcing) or SSC (Shared Services Centres) area, but cover the subject of outsourcing much wider including such areas like Car Fleet Management, Facility Management, Payroll, Accounting, Call Contact Center, Tool Management, HR outsourcing, IT Contracting and many more.
In Poland we managed to show that outsourcing is huge business both on the local and international markets. 50 percent of the content we generate is concerning local outsourcing industry and business done between Poland based companies. The remaining 50 percent is the international content describing Poland as the outsourcing location.
Our goal for Romania is to create a complex and leading web platform dedicated to the outsourcing industry. We believe OutsourcingPortal Romania will become the most important outsourcing industry media platform in Romania, which is run in Romanian language. At the same time we are opening our OutsourcingPortal International, which is run in English for those Romanian companies who would like to be visible for English language speaking recipients.
Who is OutsourcingPortal.ro designed for and how will it benefit those who use it? Can public actors access it?
Since the beginning OutsourcingPortal was designed to educate the market, promote the best business practices and help service providers showcase their experience. We have spent hundreds of hours on meetings with private companies, HR and Real Estate businesses, consulting firms, local governments and universities, training companies and many other organizations to find out their needs, expectations and opinions of what is and what is not needed to help the outsourcing industry to be recognized as a valuable employer, as well as good business partner. Thanks to those meetings and exchange of thoughts the portal is at the moment supporting a number of players, like: cities – when it comes to promotion of the investment attractiveness for outsourcing operation centres, outsourcing companies – when it comes to present their business offer consulting companies – when it comes to share the white papers and reports, students and employees – when it comes to finding a new job, event organizers – when it comes to promote the best industry events like seminars, forums, conferences, workshops, etc, industry professionals – when it comes to their promotion via blogs and individual articles.
OutsourcingPortal is an open platform and can be accessed by both public and private actors. In fact, in Poland we do a lot for Polish cities and Special Economy Zones and they are frequent readers of OutsourcingPortal. Also, on the newsletters list we can see a number of email addresses from public institutions. We hope to have the same in Romania.
You chose Romania as the first country to expand to after Poland. What brought you to Romania, and why now? Do you have further expansion plans?
Romania is a large outsourcing market. In Poland, in fact, Romania is recognized as a valuable and competitive location and very often is considered to be on the short list of international outsourcing projects. Please have in mind, when we say outsourcing projects, that it also includes such areas like BPO, SSC, R&D, ITO and similar. We had very good contacts long time ago with NNC Services, who helped us in understanding the Romanian outsourcing market and together we made a decision to build a sister portal in Romania.
Our expansion plans are certainly not limited to Poland and Romania. Already now we have partners in Germany, Lithuania, Ukraine, Bulgaria or Serbia with whom we closely co-operate and at some stage we will also would like to open OutsourcingPortal in other countries – if not in all in some of them for sure. We want the OutsourcingPortal brand to be the most important web platform for outsourcing industry in Europe, so expansion is a natural step, to keep this process on a right path.
In certain circles, the outsourcing sector does not have an attractive reputation. Moreover, Romania has been striving for years to become much more than a low-cost outsourcing destination. Why is the Romanian outsourcing industry important?
We had the same feelings a few years ago. Of course there are black sheep in outsourcing the same as they are in other industries. But nowadays outsourcing is no longer considered a low cost business. More and more often it is outsourcing that generates added value, introduces innovation and tools supporting further growth of the organization, helps in extending business activities, brand awareness and optimizes costs. Optimization of costs is a much better description than lowering the costs as in many situations working with outsourcing partners can at some stages even increase the basic cost levels. What outsourcing is also supporting is the quality of provided services. Having in mind KPIs (Key Performance Indicators) and SLAs (Service Level Agreements), the actual co-operation with the outsourcer can be easily controlled.
In Romania, Poland, the same as in other countries, the outsourcing industry is very important as it helps public and private organizations focus on their core business, helps to use the best industry experts and professionals to achieve the company's goals and helps in optimizing processes and many other business areas.
What are the strengths of the Romanian market? Is it still an attractive outsourcing market, cost wise?
Romania is a very important location on European outsourcing map. Bucharest keeps a high ranking in the Tholons TOP 100 Outsourcing Destinations and is recognized by many consulting companies. Outsourcing is not limited to costs. Outsourcing locations are considered mainly due to the access to skilled human resources, people who speak foreign languages, are experienced in IT, finance and customer service – and those are available in Romania, what makes it a valuable and good location for outsourcing services providers. Romania has excellent business locations like Bucharest, Cluj or Iasi, which in our opinion can be explored much more than they are at the moment.