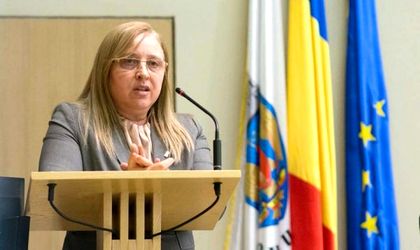 The Gendarmerie Force held a press conference this morning to explain their actions during the protests in Bucharest. One of the key pieces of information provided by the gendarmes was that they received a forced evacuation order from the Bucharest prefect, Speranta Cliseru, a little after 11 pm.
Speranta Cliseru was named temporary prefect of Bucharest in July 2018 through a government decision, replacing Adrian Petcu, and was previously one of the personal counsellors of Bucharest mayor Gabriela Firea. Earlier in her career, she worked as a public administrator and executive director in the Voluntari City Hall, led by Gabriela Firea's husband, mayor Florentin Pandele.
Between 2013 and 2014, Cliseru was the prefect of Ilfov Council. Earlier, she had been a parliamentary counsellor for Gabriela Firea, when she was a senator, between 2012 and 2013.
Last year, through a vote by the PSD-ALDE majority in the Bucharest General Council, Cliseru was named the temporary administrator of the board of RATB (the Bucharest Transport Company), but was later replaced.
Cliseru is a graduate of the Economic Studies Academy, has a Master's Degree at the Constanta Naval University and attended postgraduate studies at the Cambridge Academy of Transport in the UK. She also went through several training courses in public acquisitions and public services through the Internal Affairs Ministry, the Regional Development Ministry, the Labour Ministry and the Carol I National Defence University.