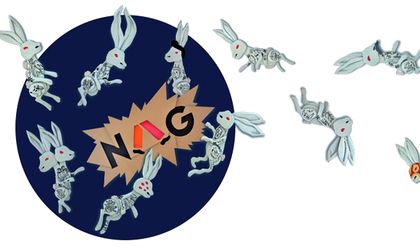 The White Night of the Art Galleries reaches its 10th edition that will take place on September 30 in 10 cities from Romania. The event covers a range of contemporary art and of the latest trends on the local and international art scene.
White Night of the Art Galleries is a project initiated and organized by Ephemair Association. For this edition, the project extends its night program in art galleries, alternative spaces, creative hubs and cultural institutions in other nine cities across the country.
Contemporary art exhibitions and events will take place also in Arad, Baia Mare, Brașov, Cluj-Napoca, Iasi, Craiova, Sibiu, Targu Mures and Timisoara. In addition, in Bucharest, there will be nine focus exhibitions, produced in partnership with guest curators and artists from the cities.
Moreover, there will be a program dedicated to a foreign specialists group from contemporary art field who will be offered a direct contract with the artistic stage from Romania. They will interact with the young artists during three days.
At the first edition from 2007, 12 galleries from Bucharest attended. The second from 2008 brought together 14 spaces, while at the edition from 2009 the number of participants doubled.
During the nine editions, the project set the basis for a platform of contemporary art promotion and the Romanian artists.
Georgiana Bendre