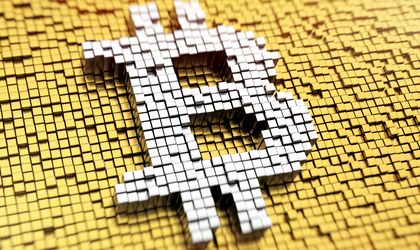 While it's been far from smooth sailing, the use of bitcoin and blockchain technology picks up speed across the Atlantic. Locally, so far, Romania's central banking authorities, such as the National Bank of Romania (BNR), are urging actors to play it safe, amid calls for caution from across the EU. The breakthrough, both in bitcoin and blockchain use, will nevertheless take place, and will be led by startups, who are expected to take full advantage, pundits say.
Four years ago, when the bitcoin price peaked at USD 1,216, it was widely hailed as the next big thing. In 2016, although the price had not managed to regain much ground, the surge in bitcoin use saw experts claim that the moment it would become mainstream was very near. However, while that point in time may be getting closer than ever, up until now bitcoin's practical use has been mostly that of a high-return speculative investment. Last month, bitcoin became more popular than gold among investors, Forbes wrote, and the cryptocurrency hit a new record high, USD 1,365. Despite quickly falling by a fifth following speculation over an imminent split due to opposing views over the size of batches of transactions that get processed, it bounced back fairly quickly. The trigger? Speculation that a bitcoin exchange-traded fund (EFT) could be listed in Europe via an Undertaking in Collective Investments in Transferable Securities (UCITS) structure.
Decentralizing payments
Bitcoin is a decentralized virtual currency that enables peer-to-peer payments to anyone in the world, without the involvement of third parties and bypassing the regulatory powers of central authorities. All transactions are made via blockchain technology, where a blockchain is a database of ordered records called blocks, which offers a way for unrelated individuals and companies to simultaneously collect and store information via their computers.
Although it is still in the process of development, the technology holds much promise. The latest setback, an internal rift between developers, exchanges and entrepreneurs over the opportunity to increase the size of a block – meaning a batch of transactions that can be processed on the network – to more than one-megabyte, hit bitcoin prices. Nevertheless, in a parallel development, since last year, discussions have intensified around the possibility of exporting blockchain, bitcoin's underlying technology, to the traditional financial sector, where it could be used to redesign the exchange of stock and other financial securities.
In February, The New York Times wrote that Microsoft, JP Morgan Chase and other corporate giants were planning to create a new type of computing system based on the virtual currency network ethereum. The projected Enterprise Ethereum Alliance, based on the open-source version of Ethereum, would become a closed ecosystem dominated by major banks. The move, experts noted, is part of a broader movement to harness the advantages of blockchain and transfer it to other sectors. While the industries and blockchain enthusiasts are looking for and testing practical use cases, for many investors as well as the general public, bitcoin and blockchain are still two terms that are used interchangeably. Moreover, as cryptocurrencies remain the most widely adopted use case for blockchain, despite the emergence of other cryptocurrencies such as ethereum, dash and monero, the bitcoin has gained its status as a trailblazer for the decentralised currencies. Still, in Europe, as in the United States, the playground for other virtual cryptocurrencies, the advance of bitcoin is tamed by legal challenges from central authorities.
Bolstered by Silicon Valley, the US currently hosts the highest number of cryptocurrency users, the most bitcoin ATMs of every country, as well as the biggest bitcoin trading volumes in the world. That is why, it is expected that the States will be the testing ground for crypto-regulation. However, despite a growing appeal from investors, progress is slow.
In March, the US Securities and Exchange Commission rejected a bitcoin-only exchange-traded fund's bid to list. Had it been successful, many argued, would have become a decisive step towards bitcoin becoming mainstream. Explaining its decision to dismiss the request put forward by fund creators Tyler and Cameron Winklevoss, the SEC said that, as it was focusing on a largely unregulated asset, the fund was at risk of fraud, which would make enforcement and surveillance difficult to implement. The underlying conclusion can only be that, so far, although the appetite of investors on the cryptocurrency markets is acting as a trigger, pushing the regulatory bodies to take a stand, their resistance is hindering the process of mass adoption.
Virtual currencies hit regulatory wall across Europe
Things are not much different back in Europe, where central bank authorities take a more cautious stance than US banks and are urging EU regulators to preserve the status quo. In October of last year, the European Central Bank (ECB) published a legal opinion saying that EU institutions should not promote the use of digital currencies. "The reliance of economic actors on virtual currency units, if substantially increased in the future, could in principle affect central banks' control over the supply of money. Thus [EU legislative bodies] should not seek in this particular context to promote the wider use of virtual currencies," the ECB said in its official opinion for the European Parliament and Council.
Moreover, the financial body asked EU lawmakers to make it clear that digital currencies do not have the legal status of currency or money and called on legislators to tighten the proposed new rules in the area. The European Commission's draft rules require currency exchange platforms to increase identity checks on people exchanging virtual currencies for real ones, in a bid to fight terrorism and prevent criminal activities.
Such attitudes are understandable, given that bitcoin and other virtual currencies are the cornerstone of decentralization. However, while the advent of virtual currency does not come without risks, the technology is generally regarded as harder to corrupt or hack due to its reliance on many separate actors rather than a single authority.
How does Romania stand?
While the use of both of bitcoin is projected to ultimately become mainstream, and the economic sectors will identify more use cases for blockchain technology, Romania has yet to fully jump on the bandwagon. According to data released in March by Netopia mobilPay, Romanians made payments in bitcoin equivalent to EUR 300,000 in 2016. The average payment was EUR 400. As for the status of the adoption of blockchain technology by the local banking sector, currently things are moving slowly, judging by the statement issued in February by the National Bank of Romania (BNR).
The Romanian central bank authority has taken a cautious stance towards both bitcoin and the use of blockchain technology, echoing in part the attitude of the ECB and reflecting lack of appetite."We, as a central bank, do not believe very much in bitcoin, because it is not something palpable. Some say it is good to take the blockchain technology and use it, but for what purpose?" argued Ruxandra Avram, BNR head of department, at the Digital Banking & Insurance conference in Bucharest. "Currently, there isn't any initiative at the level of the central bank to adopt these technologies, because we do not digest them very well" she said, adding, "the ECB has its own reservations."
But Netopia mobilPay founder and CEO Antonio Eram believes the Romanian economy could benefit directly from blockchain technology, while stressing that, as mass adoption is still far off, the advance could be led by small actors, such as startups. He sees opportunity in employing blockchain technology "not only for securing some transactions (i.e. public procurement), but also in developing solutions based on smart contracts". Currently, he argues, in Romania there are small and medium-sized players working towards including blockchain technology into existing flows. "It is an outstanding opportunity for small players, even startups, to enter this market, innovate, and change the status quo across many sectors," he argues.
According to Aite Group, capital markets spending on blockchain technology stood at an estimated USD 130 million in 2016 and this figure should climb to USD 400 million by 2019.