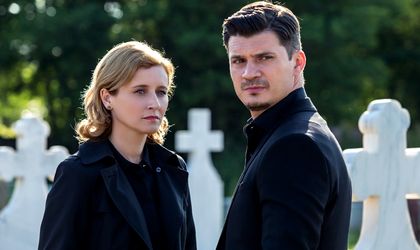 HBO Europe is putting a focus on developing original drama as it builds on the success of a raft of adaptations across its core Central and Eastern European territories. For the past few years, HBO Europe been working on producing local movies with Romanian actors, and one of the first is expected to bring some challenging themes to local screens.
 Oana Vasiliu

The subscriber-based satellite service launched its latest fresh drama, The Silent Valley / Valea Muta, on October 23, on HBO and HBO GO.
According to the broadcaster, Valea Muta explores the mutual attraction between two teenage boys, whose clandestine rendezvous becomes fraught with emotion when they witness multiple killings in a remote mountain area. Based on the Norwegian show Eyewitness, the series takes a realistic and unprejudiced approach to the relationship between two teenagers confronted by events that test their feelings and identities. Elements of thriller and drama intertwine while the investigation of the murder case (led by Elena Zamfir, an ambitious prosecutor, who is also Filip's adoptive mother) advances, and the relationships between the characters reach sensitive thresholds that transform into hard-to-manage conflicts.
Valea Muta guides its audience among controversial topics: prejudice, the underbelly of the contemporary families, the chasm created between the generations, the dysfunctional relations between state institutions, the discrepancies between social strata, and an organized crime network, which perpetuates suffering, injustice and poverty in a world full of contrasts, add HBO officials.
The new HBO Europe production features actors Theodor Soptelea and Vlad Balan, making their screen debuts, Rodica Lazar (Orizont, Carmen, Live) and Emilian Oprea (De ce eu?, Autoportretul unei fete cuminţi) in major roles. The cast of the miniseries also includes: Corneliu Ulici, Alexandra Fasola, Ovidiu Niculescu, Mihai Calin, Alina Berzunţeanu, Mihaela Trofimov, Remus Margineanu and Ioan Tiberiu Dobrica. The production is directed by Marian Crisan (Orizont, Rocker, Morgen), and the director of photography is Tudor Mircea (Comoara, Cand se lasa seara peste Bucuresti sau metabolism, Rocker).
Asked by BR if a leading role in an HBO mini-series could be considered the peak of a Romanian actor's career, Lazar replied, "I don't know and I don't think anyone has an answer to that. Every single performance has its characteristics and every time is different so there are no rules, in Romania, or worldwide. I truly believe that you need the luck of the draw. Everything should be considered a step in your career, an experience that will improve your skills and capabilities of becoming a better you on stage. This job we had can be improved only by doing it, better or worse, but doing it."
Oprea, the other leading actor, added "This journey of becoming an actor, from university, then acting in a theater, then appearing in a movie and then being part of such a production is ideal for any actor, but unfortunately, the situation in Romania is a bit difficult, while theaters can't offer jobs to the new wave of actors, salaries are pretty low and not everyone has the chance to follow these steps. HBO offers visibility and a great learning process of what true professionalism really means because the quality of the production is pretty high. Every Romanian actor should benefit from this kind of professional treatment."
Directed by Marian Crisan, the drama is expected to prove controversial for Romanian viewers, Antony Root, HBO Europe's executive VP of original programming and production, told The Hollywood Reporter. "Something that may not have been seen as particularly controversial for Norwegian audiences will play very differently in Romania," he said to the publication.
Valea Muta will be available to HBO Europe subscribers in 19 countries, including its core territories of Hungary, the Czech Republic, Slovakia, Poland, Romania, Bulgaria, Moldova, Slovenia, Croatia, Serbia, Kosovo, Montenegro, Macedonia and Bosnia and Herzegovina. It will also be available to viewers of HBO Nordic in Sweden, Norway, Finland and Denmark and in the Netherlands via HBO Nederland.