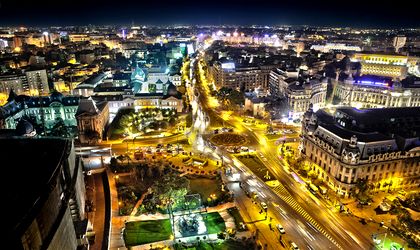 We expect sunny weather for the weekend just before Easter. There are special events taking place around Bucharest and here are some of our suggestions!
Friday night you can find out more about the Chinese culture during a special event that will take place at the Faculty of Foreign Languages and Literature, in Romana Square area, starting 17.00. There will be a poetry reciting moment and the guests can have the chance to improve their painting skills and can train writing with Chinese characters. There will also be a workshops for Chinese wood carving. The Confucius Institute will host two theater plays that are adaptations after the White Snake and Mulan. More details here.
Also Friday, it's the day to choose a theatre play "No man's land" is played at National Theatre I.L.Caragiale starting 7 PM, at Sala Studio. It's a satire against wars everywhere and against the international community and press that looks for sensational and rating.  It's an adaptation on the film awarded with Oscar for the best foreign film in 2011 "No Man's Land" by Danis Tanovic.
If you are in the search for Easter gifts, Bounty Fair, the event where you can find inspired gifts for dear ones, takes place between April 8 – 9 at Casa Universitarilor, near Gradina Icoanei Park. All the handcrafts that will be on display here are made by Romanian artists.The fair will also host 10 creative workshops for children including activities for pottery painting and origami.The entrance to the fair requires a ticket that costs RON 8. Children below 14 years old can get in free of charge.The fair will be opened between 10.00 and 19.00 in both days. More details here.
Later in the afternoon you can attend The Romanian Association for Culture, Education and Normality (ARCEN), which hosts a new cultural tour through the Mantuleasa neighbourhood, one of the landmarks of the historic Bucharest. The tour "Prin Bucurestii lui Mircea Eliade" (Through Mircea Eliade's Bucharest) will take place each Saturday and Sunday, in the April 1 – 23 period, starting 17.00, in the perimeter that includes Mantuleasa, Plantelor and Calea Mosilor-Sfintilor streets. More details here.
Saturday and Sunday in the evening, the National Bucharest Opera hosts the premiere of the  "Masked ball" play by Giuseppe Verdi. The conductor will be Marcello Mottadelli, the director of the play is Grischa Asagaroff from Germany, the choreographer is Renato Zanella, the scenograph is Luigi Perego from Italy and the lighting designer is Gigi Saccomandi from Italy. The play will present the fight between a Count and his enemies. More details here.