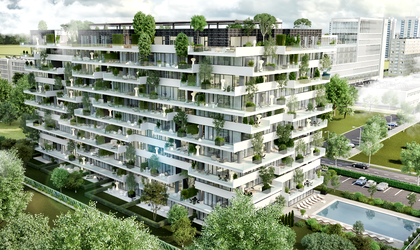 The real estate developer Werk Property Group invests EUR 14 million in a residential project in Timisoara, "the first city on vertical" in Romania, Vox Vertical Village.
The project will comprise 120 housing units in a building with 10 floors. The development will start in the following period, while the deadline is scheduled for the end of 2019.
Vox Vertical Village is a concept comprising the house itself, with terraces on wide surfaces, similar to gardens and wide common spaces for each level. It also implies the development of "vertical woods" formed of many trees and different types of plants that will be placed both in the inside, as well as on the terraces of the project.
"We aim to develop a project that will redefine the urban lifestyle. Vox Vertical Village is addressed to all those who are in the professional expansion and have a dynamic lifestyle, in line with the economic development without any antecedent of the city, but who want the peace and comfort of a different home," said Virgil Tornoreanu, managing partner Werk Property Group.
Vox Vertical Village will comprise two, three housing units and penthouse with four rooms, each with a wide terrace of a minimum useful 57 sqm, the total surface reaches 7,000 sqm.
Vox Vertical Village is developed near Vox Technology Park, also developed by Werk Property Group.
"We want to develop a mixed real estate project, which already includes an office building, followed by a special residential project," said Tornoreanu.
Additional to the two projects, Werk Property Group will build an overground Vox Green Parking, a parking with 400 lots.