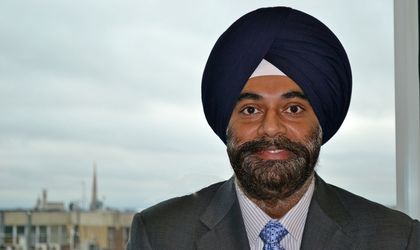 Ravinder Takkar, the outgoing CEO of Vodafone Romania, says that "4G has a long way to go", adding that it is still early for the telecom operator to select an equipment maker for 5G standards.
"Frankly, partnerships with particular equipment providers is in my mind a bit premature, especially now that 5G standards are in development," said Takkar, adding that 5G is still some 3 years away. The telecom operator has worked with Huawei and Ericsson on the development of 4G infrastructure in Romania.
"I think the key thing to remember in 5G, which is I think the part that is in the early stages, even more than the 5G standards, is really around the services on top of 5G. If we think at 5G only as a way to have more bandwidth, I'm not really sure if that's something that will drive the industry and consumer usage. Reduced latency, that's interesting, but actually it's what you do with the speed, what do you do with the latency, what do you do with the number of connections that you can have."
Takkar, who was appointed in a management role in India for Vodafone Group, suggested that we might have some commercial launches under 5G standards in 2020, but the development of the whole ecosystem around it, including new services and phones, will take more time.
The outgoing CEO also spoke about the development of Vodafone Romania under his tenure
"In a market that is fully penetrated and mature (…) we grew our customer base three years in a row, which is a something that I'm proud of in a market which has gotten significantly more competitive in the last few years."
"We were able to grow our revenue, which is a nice thing to be able to do. We grew our service revenue three years in a row," he added.
"Our smartphone penetration on post-paid base is bigger than 60 percent," said Takkar. Although the mobile Average Revenue per User (ARPU) at Vodafone Romania has remained flat at around EUR 6, Takkar said that this wasn't really an issue because as the customer base grew the number of services went up and the operator had the capacity to scale the business. He explained that in other markets, the ARPU of operators fell as they added more customers.
"In the last 3 years we gave grown our data volume by more than 800 percent," said the outgoing CEO of Vodafone Romania. Takkar also mentioned that Vodafone Romania's network has been named as the best by independent auditor P3, while Ookla ranked Vodafone Romania as the provider of the faster mobile network. He explained that Vodafone Romania is the only telecom operator in the world to hold these two distinctions in the same time.
The outgoing CEO added: "I am most proud of the team we have built." He added that 100 employees have been with Vodafone Romania for the past 20 years.
"The competitive environment in Romania has been more challenging than I had expected," said Takkar. He added that the constant changes of government officials has been a challenge for him, because it is difficult to create long-term engagement.