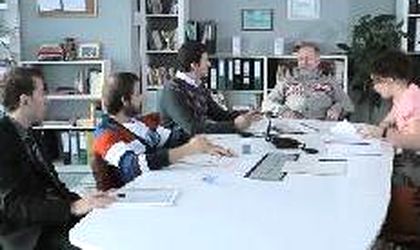 Vodafone launched in Romania the interactive online game called Manager SRL, which is part of the company's communication platform for the business segment.
 Manager SRL is the first interactive online video game produced in Romania overall. The cast of actors involved in the game includes the actors who are part of the Vodafone campaign for the business segment: Vlad Ivanov (Sere), Elena Voineag (Carla), Ilinca Harnut (Ioana), Andrei Serban (Rares), Alexandru Gastramb (Oli) and Cristian Balint (Johnny).
 The interactive game is available on the website of the operator starting on December 5 at the site www.managersrl.ro proposing the gamer to play the role of the manager and make decisions. Players who get more than 50 points can enter a raffle to win a book about Steve Jobs.
 The game was developed by MRM, a division of McCann Erickson.
 Vodafone has more than 50 percent share on the market of mobile communications for the business market. "6 out of 10 companies in Romania are clients of Vodafone," say company officials.
 The Vodafone website received 1.7 million visits last month. The operator is pushing forward its online strategy with a view to reaching communities. The video game brings out the best of the online medium, "full HD video content, interactivity and connectivity to social networks," according to company officials. The game was not tailored for mobile handsets so far, but a version for the mobile phones is also in the plans.
 To raise awareness of the game, the operator will use "one-on-one communication via tailored data basis" and "there is also another backbone to increase awareness of this game through e-mail marketing. We will purchase an additional data base to contact other business people," said Richard Ihuel, director of brand and customer experience in Vodafone Romania.
Otilia Haraga