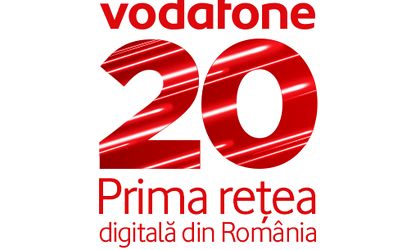 Vodafone Romania, the leader of 4G roaming services, launches to individual prepaid card users and those with subscription the possibility to use roaming voice and data services without extra costs. The benefits are also available for Vodafone Romania clients who travel in countries of the European Economic Space, comprising all EU countries plus Iceland, Liechtenstein and Norway.
The offer is part of the campaign designed to celebrate 20 years in Romania and is available for new clients and those who renew their subscriptions starting from EUR 10, as well as those who activate extra-options on their prepaid cards starting with EUR 8. Moreover, calls received by Vodafone Romania users while traveling to countries part of the European Economic Space will be free.
"We are proud to be once more one step ahead and to innovate on the telecommunications market in Romania, making free the roaming services for all our individual clients. In this anniversary year, Vodafone, the first digital platform in Romania, also becomes the first to offer their users the flexibility to communicate in Europe in the same conditions as in Romania and the joy to feel exactly like at home," Andrea Rossini, Vodafone Romania Consumer Business Unit director said.
Also the most recent portfolio of subscriptions for companies launched by Vodafone Romania offers the possibility to use, without extra costs, minutes and data included also in the countries of the European Economic Space, Vodafone Romania facilitating this way roaming communication for all its 8.7 million of mobile users.
Vodafone is a global leader on the segment of 4G international roaming services, according to a report by global independent research company Ovum. The study shows that, in most markets included in the study, Vodafone offers 4G roaming in over 100 destinations, representing more than the double of the number of destinations offered by other users. The full list of countries where Vodafone's 4G roamning services are active is available at the link here.
In 2017 Vodafone celebrates 20 years and will mark it by means of several events.