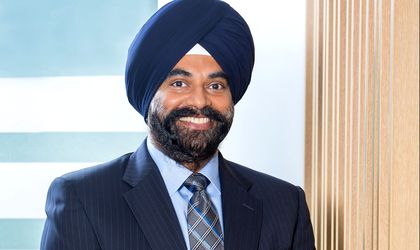 Romania is the fastest growing market in Europe within the Vodafone Group, according to Ravinder Takkar, CEO of Vodafone Romania (in picture).
"Two years ago, I was the newest CEO in the Romanian telecom industry. Now, I am the oldest one in this tenure," said Takkar.
Two years after he took office, the Vodafone CEO reviewed the company's activity during his term and outlined the future strategy of the operator during a meeting with the media on May 23.
The company CEO said Vodafone will make "huge investments" in Romania, which are comparable to those that were made when the company started business in Romania.
"Two years ago when I came to Romania, we had one of the biggest investment budgets for our network. Last year, we increased that spend even more. This year, we will take it even further. It is an amount that hasn't been spent for a lot of years  in this industry. We are going to make huge investments," said Takkar.
EUR 35 million has already been spent via the Spring component in Romania.
Project Spring is Vodafone Group's two-year, £19 billion investment program designed to place Vodafone at the forefront of growth in mobile data and the increasing trend towards the convergence of fixed and mobile services. The company is now just over one year through the program, according to the annual report of Vodafone Group.
The company CEO did not mention the exact sum of the investment.
In an interview for BR, Takkar said that annual investments made by Vodafone in Romania were well north of EUR 100 million.  
Over the next two years, the focus of the company will be along three main pillars.
The first is the focus on smartphones, internet access, building additional services and focus on content. "We will enrich our video content offering, because we believe that content is very important" said the CEO, who promised that new things will happen by the end of the year in this respect.
Vodafone offers YouTube and HBO Go at the moment, but more developments will follow.
"We have invested in the quality of the network and video content is one of the fastest growing categories. We will become more active in the content business, meaning that we will sign commercial agreements with other providers, and maybe we will consider production of content too, at some point," said Takkar.
The second pillar of Vodafone's strategy is the development of enterprise services, where things are at an early adoption stage in Romania. The focus will be on the 4.0 services in order to help companies increase their productivity.
The third pillar of the strategy is customer experience excellence.
Facts and figures about Vodafone Romania's evolution:
Nearly 1 million customers more than two years ago
The smartphone base increased by more than 1.2 million smartphones compared to 2 years ago
1.1 million more 4G customers compared to two years ago
85 countries more in 4G Roaming, compared to two years ago
Data traffic: more than 100% CAGR compared to two years ago
Voice: more than 10 percent CAGR compared to two years ago
50 percent more sites in the network compared to two years ago
Service revenues increased four quarters in a row, faster than the market, representing the fastest European growth within the Vodafone Group, of 7.7 percent for the fiscal year 2015-2016
In network security, Vodafone blocked 3.2 million viruses, stopped 36 million phishing attempts and is analyzing daily 450 million websites against malware
Vodafone currently has 3,000 employees
Less positive things Takkar noticed during his 2 year term:
The strong imbalance in regulation between the mobile and fixed data access
The lack of continuity in the legislative environment. "This is the third minister of Communications over the past 2 years. We discuss plans but by the time they must be implemented, the minister changes," he said.
The lack of predictability at the level of taxes and fiscal regulations, "which makes shareholders a little nervous about investing in Romania."
When asked by BR to comment the topic of prepay card registration, Vodafone Romania's CEO said:
"Clearly, from the security perspective, the Romanian government and security services feel like the registration is important and we understand that. They have a law, we are working with them on some of the details and I hope there will be a good collaboration and finding the right ways, because we believe there are good ways to do prepay registration and there are not so good ways. We hope that we find a common good way to do that. There are multiple angles: one concerns what does the customer have to do to do to make the registration, what information to provide, how they get that done, which I think is very important because in a place where you have millions of prepay customers, finding a nice manner in which we could do this work is very important. Concerning the timeframe, there were earlier discussions about 6 months which seemed quite fast and then there were 18 months. I think that somewhere between 9 months to one year, we should be able to find a mechanism. It still means a lot of work and a lot of customers, and there will always be special circumstances, but I think we can make that work. We have done this in other countries in Europe, it was a very designed process. In many countries it happened many years ago, like in England or Italy they have prepaid registration. In India we have 180 million customers and it is full prepay registration there. And then there is 'what is that you want registered' question, which I am hoping we will find a good solution for all of us."
Otilia Haraga