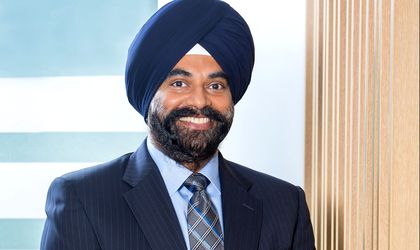 Vodafone Romania announced recently that it will be making "huge investments" in Romania, on a par with those when the mobile operator started business here. The exact value of the investments has not been disclosed. Annual investments made by Vodafone in Romania in recent years have been north of EUR 100 million. President and CEO Ravinder Takkar told BR about Vodafone's strategy on the local market.
 Otilia Haraga
Vodafone has announced "huge investments" in Romania. Could you provide a percentage split?
The network has always attracted the highest share of our capital expenditure. I would say that most of our investments go into our network while the rest are focused on providing a superior customer experience, through systems, processing, IT and applications, as well as our store network.
Do you see the Romanian market as very sensitive to pricing, or is the customer ready to pay more for a better experience?
In terms of telecommunications, Romania is a country that quickly adopts international trends and we see our users becoming more focused on quality, services and content than on the pricing aspect. Of the European markets where Vodafone is present, our financial results for 2015-2016 show that Vodafone Romania has had the fastest growth, after four consecutive quarters of rising service revenues. A trend that we see in our usage is that Romania continues to grow on voice, with a 10 percent increase over the last two years, while the growth in data and smartphone penetration is also among the top in Europe.
What is your position on the issue of prepay card registration?
Clearly, from the security perspective, the Romanian government and security services feel like registration is important – and we understand that. They have a law, we are working with them on some of the details and I hope there will be a good collaboration to find the right ways, because we believe there are good ways to do prepay registration and there are not so good ways. We hope that we'll find a mutually good way to do that. There are multiple angles: one concerns what the customer must do to register, what information they need to provide, and how they get that done, which I think is very important because when you have millions of prepay customers, finding a nice manner to do this work is very important. Concerning the timeframe, there were earlier discussions about six months which seemed quite fast and then there were discussions about 18 months. I think that somewhere in between 9 months to one year, we should be able to find a mechanism. It still means a lot of work and a lot of customers, and there will always be special circumstances, but I think we can make it work.
Have you done this on other markets where you have operations?
We have done this in other countries in Europe; it was a highly designed process. In many countries, like England and Italy, where they have prepaid registration, it happened many years ago. In India, we have 180 million customers and it is full prepay registration there. And then there is the 'what is it you want registered' question, to which I am hoping we will find a good solution for all of us.
You previously said that Vodafone had blocked countless security attacks. How do you ensure network security?
As part of our Supernet 4G experience, we provide our users, both consumers and businesses, with a security solution embedded at the network level, which protects them from malware, viruses and phishing attempts. Our users are protected without having to install any app or change any settings on their smartphones and tablets, as the security component is network-based and the number of sites that we monitor on a day-to-day basis is continuously growing.
How much do online sales amount to, out of total devices and accessories sales? How are you developing the online channel?
The digital channels are posting a continuous growing trend in terms of handsets and accessories transactions, with specific annual peaks, such as Easter, Black Friday and Christmas. Also, from a bill payment and top-up perspective, we have experienced growth, with the fastest rate coming for transactions made through the MyVodafone mobile app. Romanians like to browse online and still go to stores to get help from our specialized staff and look at the devices.
How many stores does Vodafone run, both its own outlets and through franchise? What changes will you make in this area?
Vodafone Romania has a network of hundreds of stores – own stores, franchises and dealer stores. We continuously grow our franchise store network and, as an overall retail presence, we want to be where our customers need us. Our coverage is constantly evolving. We have roughly 150 franchises today.
How many employees does Vodafone have in its different business areas?
Vodafone Romania employs roughly 3,000 people, out of whom 1,000 work in the customer operations area. Our excellence centers in Romania are also growing, in terms of number of employees. Nowadays, in addition, we employ 800 people in Vodafone Shared Services Romania and 600 in the Network Operations Center.
 CV Ravinder Takkar, 46
May 2014 – appointed CEO of Vodafone Romania
January 2012 – appointed CEO of Vodafone Partner Markets
1994 – joined Vodafone working as EBU director and strategy director of Vodafone India, group product development manager for Vodafone Live, chief technology officer for Vizzavi and other operating roles at Vodafone Spain and Vodafone Portugal
Served as board member of Vodafone India and Indus Towers
Before Vodafone, he was management consultant at DMR Group
Holds a bachelor's degree in Computer Science from Loyola Marymount University, Los Angeles