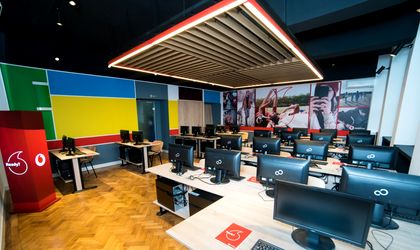 Vodafone Romania and the Bucharest University of Economic Studies inaugurate the new IT laboratory located in "Virgil Madgearu" building on Calea Dorobanti, finished through a renovation and modernization project aimed at adapting the space to the training needs of students from the Faculty of Economic Cybernetics, Statistics and Informatics, as well as from other faculties.
The new lab has a capacity of 27 seats and has been completely supplied with furniture and new computers, a video projector and a screen for video projection. The project has been implemented with the support of Vodafone Romania and developed under the partnership concluded with ASE Bucharest in June 2017.
"As of today, students of the Bucharest University of Economic Studies will learn in a completely new and fully equipped IT laboratory. This is only the beginning of a broader partnership between Vodafone Romania and Bucharest University of Economic Studies," said Andrea Rossini, consumer business unit director of Vodafone Romania.
"The partnership between ASE Bucharest and Vodafone Romania is based on our objective to strengthen relationships with the business environment and provide the necessary support in training the skills of graduates. We trust that this partnership provides us with a good foundation for developing, together with Vodafone Romania professionals, programs tailored to the various specialties covered by the faculties with economic profile from our university," said professor Nicolae Istudor, Rector of ASE Bucharest.
The partnership with the Bucharest University of Economic Studies is part of Vodafone Romania's initiative aimed at supporting the academic community in Romania and students' practical education. In the same context, the company will also implement the Marketing Academy Program, which consists of a series of training sessions delivered by a team of Vodafone Romania professionals, addressed to students who are interested in a career in marketing or related fields. The program, based on an interactive learning concept, will be organized at the company headquarters.