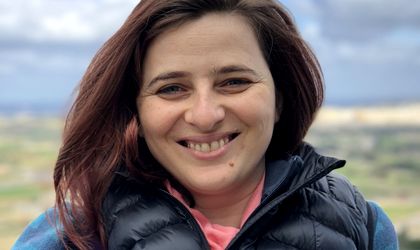 Aiming to change tourism and to support the travel lovers, two Romanians – Alina Ovesea ( project manager and marketing specialist) and Alexandru Paraschiv (IT architect) –  have launched the application Toura, now available in Google Play. The GPS-based app, once downloaded, can be used  without internet connection by any tourist, who can find every detail at the scene: the most important objectives, safety information, transport details, etc. And this can be done by every individual, no matter if they are drivers or pedestrians, a tourism specialist or an amateur. BR talked to Alina and found out their plans for the app.
How did the idea of launching Toura come up?
As every nice thing, it started from an extremely personal need that we felt and the solution seemed to be the answer to our need. We are independent travelers, we like to organize our vacations by ourselves and we come back with unique experiences. To organize and pack as many things as possible in a vacation you need to inform very well, it takes time. It's like a treasure hunt, with only a few hints. We discovered blogs that inspired us, that helped us to organize, but they were spread all over the internet- the thing that you didn't have when you were on the field.
We don't like the crowded places. We wanted to offer people an instrument to help them discover not so popular places. In Romania we have places that are not very known, however lately people have started to visit them. We went to a dormant volcano in Romania, which is not very known, it was hard to find it, there was no indicator. We had to zoom it on Google Maps. We want to change the tourism, with the help of tours we'll help Romanians, as well as foreigners to discover this kind of places. It's one of our objectives, but we need tours creators who are responsible and creative. We have so many beautiful places that we don't know to promote. Now it depends on each of us to do this because we have the instrument. It is available in 5 languages (Romanian, English, French, Spanish, German).
We also like to discover a place, we like stories. This is why we thought of an instrument that helps you create the framework with practical information and organizational details such as: road map (like GPX for specialists) and the points where it's someting marked on the map, but which are combined with the story, the historical data, as well as with the creator's opinion.
How is the application used? As far as I understood it can be downloaded in Google Play and then it runs based on GPS.
The application is a platform of meeting for those who create tours and those who make tours (travelers). The creation of tours can be done by anybody. You only need a smartphone with Adroid with an updated version from 4.1, you install the app, you make an account, you turn on the GPS and you are ready to go. Starting that moment you can create a tour. It can be anything, such as a city tour in search of works of art or a mountain trek or the Europe tour for students by train, the Asia tour with the motorcycle, anything that inspires you to get out of the house. It can also be a tour with a theme such as "searching for Dracula" or a tour inspired by a book. We encourage the educational tours made by schools or made by family, aiming to learn from practice. It can be in any place of the globe.
The app runs in the background and registers the track. Of course the registration can be paused, as a tour has to reflect the touristic aspects, not all the users' actions. When you reach an objective you open the app and you add a point by pressing the "plus" button. After adding or after the finalization of the tour and the upload on the server, it can be edited.
Firstly you choose what kind of point it is. Initially, it is an objective, but it can be transformed in other types of points such as:
Information- for orientation and security
Transport- marks the switch of transport means and the necessary actions details
Services that you might benefit from- such as accommodation, souvenir store, WiFi service
End of the day-  to mark a day and make you understand the jam level based on statistics on length and distance
Can it be used in less accessible areas?
We encourage it. Except for areas without signal where it registers a high error. We want to make known the hidden places, less accessible. We aim to use means of transports used by locals and optimize the access to this kind of places. Thus you can live like locals and understand them and the places they live in.
The track is registered through the simple movement of creator while the registration of the tour is on.
How does it differentiate from othe touristic sites, such as TripAdvisor?
We created an instrument for common users. I belive that the tourism has to be personal and to fit you. I don't think that the profile of a classig agency suits everybody, some people want adventures, they want to integrate in the destination and discover it at a subjective level. I like to call it "the tourism democratization". These are the things that Toura brings. And it's not just about the choice of destinations, but the effective organization of the track. The internet it's full of destinations, but less about the connection between them, about the wide organizational aspects, such as road issues, costs, effort, daily organization. TripAdivsor is an information catalogue, we want more than that- we want to give pople the power to put on the map forgotten places, to express the passion about a place or secret held by a few and last but not least, to generate revenues for passionate travelers.
We aim to integrate businesses, such as hotels, restaurants, stores, airlines, taxis, in the tours created by users.
But maybe one of the most important differences of our app is the capacity to create additional value. You have a satisfaction after you create the tour and see it on the map. It's profound understanding of what you created and your memories and feelings.
What do you expect from this app? Will it be monetized?
We aim to create a new job- traveler tours creator. As the tours are more interesting, better organized and more informed, the traveler will have more followers- I expect it to function like all content platforms. When businesses will understand that we bring them clients, they will come to us. And then we'll start to monetize. All the incomes made from a tour will be shared with the creator.
Moreover the platform can offer content for their own blog/site. To describe what we aim to become, I will refer to Booking and Momondo. Everybody knows them, but we put the emphasis on the experience, track and objectives. The services sold are additional to the app to spare the users from searches and bookings for each day, service and location.
We aim to help people fulfill a dream that we also have: to go on a travel where we don't know when we come back from, to stay in a place as much as we feel. There are few who succeed . We want to change this ratio.
Do you plan investments to promote it ?
We are working on it, we test more channels. Considering that all the developments and promotion are made by ourselves, we have to be prudent and invest efficiently. It takes time, it's hard to be an entrepreneur, but you need to be passioned about it. We succeeded to implement this project with no investment. I call it passion.