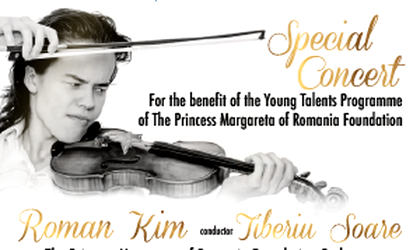 The violinist Roman Kim and the conductor Tiberiu Soare will perform Tuesday evening at the Romanian Athenaeum in a special concert in support of  the princess Margareta of Romania Foundation, which organizes the ninth edition of the Royal Charitable Concert for the Young Talents programme. At the beginning of the event, Her Highness Margareta will read the message for the 95th birthday of King Michael I.
The event will take place in the presence of the members of the Royal Family, princess Margareta, prince Radu, and princess Maria.
The Royal Concert is one of the charitable events with a 9-year-long history. The princess Margareta of Romania Foundation continues the tradition of the Royal Family to support and promote Romanian culture and talent. Every year, on the anniversary of His Majesty King Michael I, the event brings together some of the most gifted musicians of the moment and gathers funds from the community to support the young and talented musicians of our country.
The special guest of this year's concert, Roman Kim, is one of the most celebrated violinists of the young generation. At the age of 25 years, he is compared by critics with the brilliant Niccolò Paganini for his talent, creativity and achievements. He is also a composer.
The conductor Tiberiu Soare will be leading The Princess Margareta of Romania Foundation's Orchestra for the third time in a Royal Concert. Every year, he dedicates himself to the discovery and preparation of the most talented musicians in Romania to take part in the orchestra.
The funds raised through the Royal Charitable Concert on October 25th will support a new generation of scholarship recipients, through the Young Talents programme. In the past 9 years, the Foundation has invested approximately EUR 1 milion in the artistic future of Romania.
Georgiana Bendre