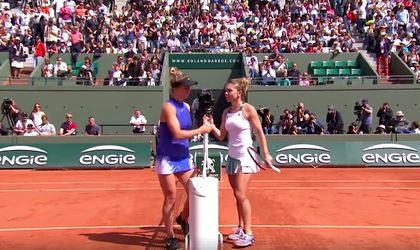 The victory of Romanian tennis player Simona Halep against Elina Svitolina was dubbed by Women's Tennis Association (WTA) as an "epic comeback" to reach the French Open semifinals.
"That's the challenge for Halep, who is coming off a seemingly miraculous comeback from a set and 1-5 down to beat No.5 seed Elina Svitolina, 3-6, 7-6(6), 6-0, saving a match point en route. The Romanian's bid for No.1 is also on the line on Thursday, as the Roland Garros title would not just give her a maiden Slam title but it would also move her to No.1.
The biggest question for Halep is whether she can come down from her great escape and refocus on the task at hand in 24 hours. Based on her post-match press conference, the indication is yes. She was peppered with questions about her comeback win and Halep dutifully answered but also gave the impression that she had already moved on, politely steering the conversation away from the match," wrote the WTA.
Halep will face Karolina Pliskova in today's semifinal.