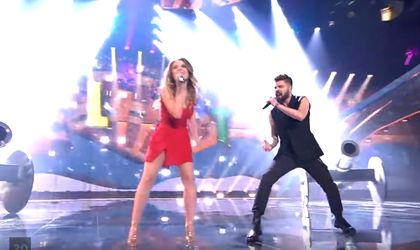 Ilinca ft. Alex Florea represented Romania at the 2017 Eurovision Song Contest in Kyiv with the song "Yodel It!", being ranked seventh in the competition in which Portugal snapped the grand award with Salvador Sobral singing "Amar Pelos Dois".
The final outcome was decided by a 50:50 split between professional juries and televoting from all 42 participants, according to the organizers.
Romania got 224 points through televoting, while Portugal raised 376 points.
On the jury vote, the singers from Romania got 3 points from Azerbaijan and Latvia, respectively, 10 points from Montenegro, 3 points from Albania, 5 points from Malta, 4 points from Macedonia, 6 points from, 12 points from The Republic of Moldova, 3 points from Bulgaria, 1 point from The Netherlands, 8 points from Ireland.
On its side, the Romanian jury granted 8 points to The Republic of Moldova, 10 points to Bulgaria and 12 points to The Netherlands.
"Thousands enjoyed three spectacular live shows at Kyiv's International Exhibition Centre this week, with an expected 200 million viewers tuning in on television. On YouTube, the Grand Final was watched by some 4 million people, breaking records," according to Eurovision.tv.
Final results of Eurovision: