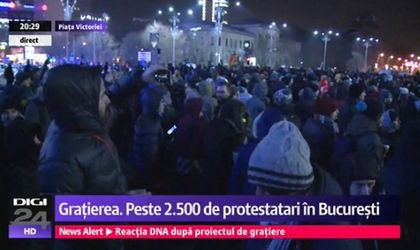 Around 2,500 people were protesting outside the government building in Bucharest, hours after the center-left government led by PM Sorin Grindeanu put up for debate a draft bill that aims to pardon detainees that got jail sentences of less than five years.
People took to the streets in other cities, such as Craiova and Cluj-Napoca, but in smaller numbers. The Romanians are venting their anger at the left wing party PSD and its leader Liviu Dragnea, but also called for Victor Ciorbea, the Ombudsman, to step down.
The protesters organized themselves through Facebook as several event pages were launched  for protests across the country.
President Klaus Iohannis went this morning to the meeting of the Government, in a surprise appearance, to tell Grindeanu's Cabinet that any bills that would change the legal system have to be carefully analyzed and discussed with the relevant institutions.
The draft pardon bill and the proposed amendments to the Penal Code did not appear on the Government's agenda today, but it is unclear if the documents had been on this list initially so they could be approved through government ordinances.
While the Minister of Justice, Florin Iordache, said that around 2,500 detainees would be pardoned, claiming that this measure would reduce the overcrowding, the anti-graft directorate DNA warned that such draft bills would hit Romania's anti corruption efforts.
The DNA said in a statement that the abuse in office and the crimes related to corruption would be on the list of pardoned offences, alongside the complex fiscal evasion crimes.
Prisoners that are over 60 years old or those that have to support a kid below 5 years old would receive a pardon for half of their jail sentence, according to the draft bill. The measures of this bill would not apply for people sent behind bars for violent crimes or offenses impacting the national security.
The draft bill has been criticized by the opposition parties, which warn that corrupt officials would get a free ticket out of jail.
Romania's general prosecutor, Augustin Lazar, criticized the draft pardon bill, explaining that it would not solve the issue of the overcrowding of prisons. He added that such a law would harm the anticorruption activity in Romania.
"A pardon and amnesty bill is not needed because we have to combat the criminality, we have priorities on combating corruption, of recovering the goods that were stolen by criminals (…) the kind of activity for which prosecutors are paid," said Lazar.
Occupancy rate of Romanian prisons stand at over 150 percent and in eight of the 44 of them the occupancy rate stands at 200 percent, according to public data.
Ovidiu Posirca
Main photo: Screen capture – Digi24
Video source: hotnews.ro