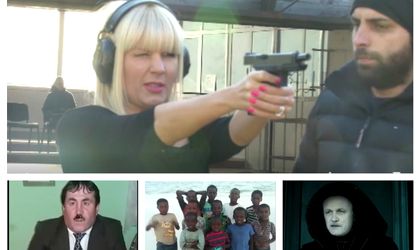 All the political parties have embraced social media in Romania and some of the independent candidates are organizing their own Facebook Live sessions in order to get in touch with Romanian and essentially to get into Parliament after this Sunday's elections.
Some of the more online-savy candidates are spoofing themsleves or making other kinds of funny videos in order to attack their competitiors.
Among them, there is independent MP Elena Udrea who is trying to secure a second mandate in Parliament. Although she went on trial in a corruption case she is one of the politicians using Facebook intensively to get elected. Aside from the live Facebook sessions she has with her fans online, Udrea published a video which features her using a pistol in a shotting range. She wrote that this clip was a joke and that she did it because the current political campaign was boring.
Next, there is the emerging extremist party PRU, which filmed a group of kids on the beach that were telling the name of the party numerous times. Acording to Bogdan Diaconu, the head of the party, the film was shot in Tanzania.
USR, the newly founded party headed by Nicusor Dan, created its owns "horror movie" by using sections for several movies such as The Lord of the Rings, to tell the people what will happen if the left-wing party PSD wins the elections.
The largest political parties in the countries, the left-wing PSD and the right-wing PNL, have also used social media, but they took a more cautious approach. For instance, both Liviu Dragnea – PSD head and Alina Gorghiu – PNL, appear in several videos posted online, but in most of the material they are promoting their political platforms and refrained from posting controversial things. The same approach was taken by right-wing PMP party, led by ex-president Traian Basescu who is trying to get into Parliament as senator.
Here is a clip of Dragnea.
The head of the PNL talks about the elections.
Basescu talks from his office.
There was also an anonymous candidate that became an online sensation after posting a video on his Facebook page in which he was asking the citizens of his village to vote for him on Sunday. His name is Costica Berindei. He used to work as a miner and he is currently a carpenter.
Ovidiu Posirca