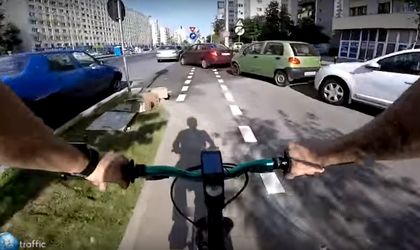 A Romanian biking vlogger has posted on YouTube a short recording of him trying to use the bike lanes in Bucharest.
You will see that the bike lanes have a strange design in the Romanian capital. Some of the lanes are placed on the sidewalk, while in other parts of the city, there are cars blocking these special routes.
The recording was made in Pantelimon, a working-class neighborhood located in southeastern Bucharest.
Last year, Bucharest had 5 bike lines in operation. The longest route had 2 km.
Between 2007 and 2013, the Bucharest Town Hall has invested in 39 bike routes. The Road Police has closed 37 of them due to safety reasons shortly after becoming operational, according to TVR.
All in all, the Town Hall has invested EUR 10 million in six years for 100 km of bike lanes in the city.