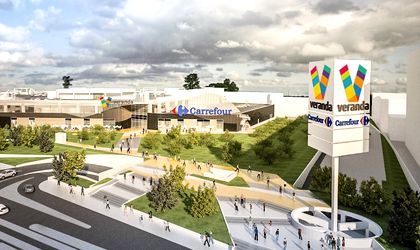 Veranda, the shopping center developed by Prodplast Imobiliare, announced plans to invest up to EUR 2 million in infrastructure works carried out in the Obor area. These works include the widening of Ziduri Mosi Street through the addition of two traffic lanes, one for each way, and also the modernization of the tram station in the area.
Works are programmed to last for two months and will be finalized in the last quarter of the year, when the Veranda shopping center will also be inaugurated, at the moment being 60 percent finished.
"We are building new roads to provide the more than 430,000 inhabitants in Obor an experience of modern shopping and leisure. Easy access will define Veranda. At a distance of less than 5 minutes' walk there are 16 public transport connections, while the Obor metro station is 400 meters away. We are also building 1,200 parking spaces for visitors, thus contributing to traffic decongestion in a currently overcrowded area. Moreover, the impact on nearby residents will be low throughout the period of the works, because traffic on Ziduri Mosi Street will not be interrupted," said Andrei Pogonaru, developer of the shopping center Veranda.
The investment includes the widening of the road area by about 500 meters, the improvement and widening of the pavement on both sides by 4 meters, and moving the 36 tram station, for which a sanctuary will be built. The plans also involve investment in the sewerage scheme and move electricity poles.
For the widening works to be possible, Obor Square will yield land totaling 920 sqm opposite the shopping center, while the investment made by Veranda includes also a plot of land of over 2,000 sqm.
Veranda is a project developed by Prodplast Imobiliare and will be opened in the last quarter of 2016. The shopping center will cover an area of some 30,000 sqm, including stores, restaurants, cafes and a 15,000 sqm green area. The final investment will amount to EUR 60 million.
Natalia Martian