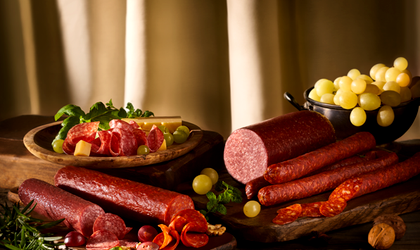 Vascar, the Romanian meat producer, announced a turnover growth of 12 percent compared with 2015.  
The most significant evolution is related to the meat products, where the sales grew by 16 percent compared with the previous year. The tins sales registered a growth of 10 percent in 2016 compared with 2015.
"Last year was the year with the highest growth of business indicators, in the context of the important investments in he expansion of the sales channels at national level, but also in marketing and communication. 2016 is also an important year for the evolution of the premium brand Moldova in Bucate, launched at the end of 2015. Today it's the most appreciated brand from the Vascar portfolio," says Vlad Ciuburciu, marketing director of Vascar.
With the ocassion of the winter Holidays, the Vascar sales of the meat products doubled compared with a regular day of the year, the biggest growth being in the seasonal traditional products- home made pork specialties from Moldova in bucate.
"In 2017 we'll continue to invest in the expansion of the partnerships expansion from retail, but also in the increase of the stores and the share of exports in the company's turnover," said Ciuburciu.
Vascar was set up in 1984 in Vaslui and it's a company with 100 percent Romanian capital with an organic evolution on the competitive market.
Vascar has more than 300 employees.
Georgiana Bendre