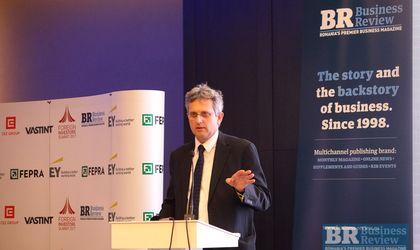 Valentin Lazea, the chief economist of the National Bank of Romania (BNR), says that in more than half the last 25 years, Romania has carried out important reforms under the strong supervision of international organizations such as the International Monetary Fund (IMF), the World Bank and the European Union.
He said that the periods of important reforms (1997-2006 and 2010-2014) alternated with periods of modest or stalled reforms (1990-1996, 2007-2009, 2015-2017).
"The ideology doesn't play a role in Romania when we are talking about reforms," said Lazea in the first day of the Foreign Investors Summit 2017, the 3-day event organized by Business Review. He added that this was his opinion.
The economist said that Romania's GDP per capita at Purchasing Power Standards (PPS) stood at 59 percent of the EU average in 2016. By comparison, "Little" Romania had a GDP/capita (at PPS) equivalent to 67 percent of the then-European average.
Lazea went on to say that the reforms in period 2010-2014, Romania has achieved, by mid-2015, impressive macroeconomic indicators.
The chief economist added that if Romania wants to grew by 5 percent annually, it should abandon the fiscal stimuli and wage relaxation. He pointed out that the potential GDP growth of Romania stands at 3.5 percent.
"If Romania wants to grow inclusively, it should tackle the problem of it having the highest degree of inequality between the first quintile and the fifth quintile," said Lazea referring to the difference between the top 20 percent and the bottom 20 percent. Thus, Romania's Gini coefficient, which tracks income inequality, stands at 35,9 in Romania, while for the EU it reaches 30,9.
As potential measures to tackle income inequality, Lazea mentioned the return of income globalization and progressive taxation and the increase of the minimum wage, but not of allowances for non-workers and not of wages across the board. He also cited improvements in the education system and the enhancement of the labor mobility.