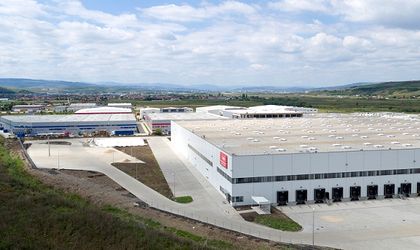 The logistic and industrial speces developer CTP delivered a new 8,000 sqm hall in CTPark Cluj II to Ursus Breweries.
CTPark Cluj II is located in Floreşti, near Cluj-Napoca, and occupies a total area of ​​30,000 sqm. This is the second partnership between CTP and Ursus Breweries, after delivering a 14,000 sqm warehouse to CTPark Timisoara II in November 2017.
CTPark Cluj II will only include Class A spaces, the development of which uses the latest ecological technologies. At present, out of the total area of ​​30,000 sqm, 8,000 sqm have already been completed and delivered, with the 11,000 sqm available for rent in the second and third stages. The spaces can benefit from flexible subdivision, according to customer needs, from 2,000 sqm to 10,500 sqm.
The park is built on a land of 65,000 sqm and is the second park developed near Cluj-Napoca by CTP, the first being CTPark Cluj I in Apahida.
In Romania, CTP is the largest developer and administrator of Class A logistic and industrial spaces with over 800,000 sqm of leasable area located in ten cities: Arad, Bucharest, Cluj-Napoca, Deva, Ineu, Pitesti, Salonta, Sibiu, Timisoara and Turda.