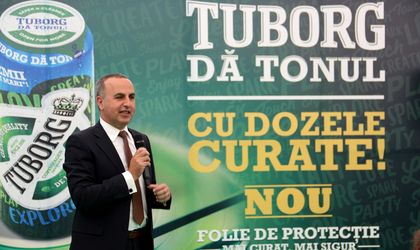 United Romanian Breweries Bereprod (URBB) will sell beer cans whose top comes covered in an aluminum foil, in order to offer protection against external factors. The technology behind it, developed by Italian company EcoCap's, was implemented after an EUR 2 million investment.
The need to introduce the protection foil was highlighted by a study conducted by URBB in 2016. Lab tests conducted by ICA research and Development at the request of URBB showed that 11 percent of the beer cans tested had not been kept in hygienic conditions.
The innovation was presented during an event held at the Tuborg factory in Pantelimon. Tuborg, URBB's flagship product, was chosen to showcase the advantages of using the protective foil as it enjoys increased brand awareness on the very competitive Romanian beer market. Alu-Foil, available on all beer brands in the portfolio of URBB, namely Carlsberg, Tuborg, Tuborg Non-Alcoolic, Holsten, SKOL sand SKOL Nepasteurizat, is 100 percent recyclable.
"All Tuborg Romania initiatives start from our concern for total quality," said Shachar Shaine, URBB president. "We want to offer Romanian consumers the best products and the best consumer experience. From the bottling line to the consumer, the aluminum foil fully protects the cans from external factors."
Speaking of the investments required for the implementation of the new technology, the URBB president added: "We have invested a significant share of our investment buget for 2017 in Alu-Foil for this purpose and did not want to compromise: the latest technology and the attention for beer consumption will certainly prove to Romanians that Tuborg Romania allows them to enjoy the trust and the quality of our products".
Bologna-based EcoCap's delivered for the Tuborg factory the necessary equipment. The technology allows for the protective foil to be applied using heat as part of a fully automated process, without the need for adhesives. In practice, the aluminum foil acts like a barrier against bacteria, dirt and dust, while being environmentally friendly.
Recently, URBB introduced to Romania several new beer brands: Grimbergen Ambree (Belgium), Kronenbourg 1664 Blanc (France), Angelo Poretti 4 Luppoli Original, Angelo Poretti 5 Luppoli Bock Chiara and Angelo Poretti 6 Luppoli Bock Rossa (Italy).
Beer cans with the new packaging will be available in stores in June.