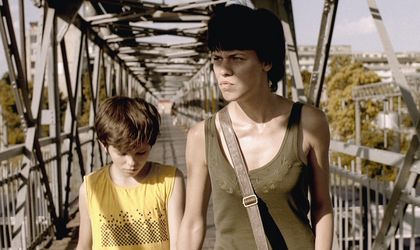 Bogdan George Apetri's debut, Periferic (Peripheral) will hold its gala premiere on March 31, at Cinema Studio in the capital city, in the presence of the actors and the crew. Starting April 1, for three weeks, the movie will be showcased in other cinemas in Bucharest, Cluj, Iasi, Timisoara, Brasov, Constanta, Craiova, Arad, Vaslui and Oradea.
The film tells the story of a female prisoner getting out of jail for one day and tries, during this short interval, to put her life in order. In the 24 hours she gets in order to attend her mother's funeral, Matilda plans to take her son and elope from the country. Apetri studied film direction at Columbia University, but practiced law in Romanian before moving to the states. He has had his short films showcased at festivals as Clermont-Ferrand, Rotterdam, Palm Springs, Cottbus, Montreal. Apetri has also co-produced the American film "3 Backyards", directed by Eric Mendelsohn, which won the best direction award at Sundance Festival (2010).
Periferic is based on a story written by Cristian Mungiu and Ioana Uricaru, adapted into a script by Tudor Voican and Apetri. It has received several awards, among whoch one for Ana Ularu's interpretation of Matilda at Locarno, while at La Viennale, the film received the FIPRESCI (The International Federation of Film Critics) award.
"Throughout the process of rewriting this movie, I was captivated not only with characters but also with the constraints brought by action time of 24 hours. Naturally, this limits ways in which the audience can discover and understand the characters. I've always been drawn to strong character stories and, undoubtedly, the center of Periferic is Matilda. But how much can you learn about a person in one day? And, most importantly, how?", stated Apetri.
UPDATE: The film will also be available for viewing online, simultaneously with the cinema premiere, on webkino.ro, a pay-per-view service. Firstly, the film will be available online only in the localities where the are no cinema halls. After May 1, the film will be made available online anywhere in the country.
The film's official trailer:
Photo courtesy of Saga Film.
Corina Dumitrescu