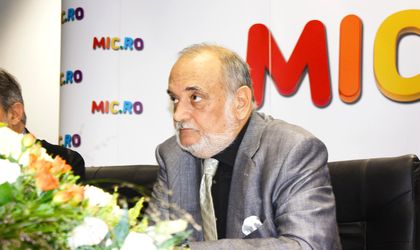 The Bucharest Court has approved Mic.ro Retail's request to enter insolvency last Friday. RVA Insolvency Specialists was appointed judicial administrator for the company.
Dinu Patriciu's Mic.ro Retail, the company that owns the Mic.ro proximity stores, has filed for insolvency last Tuesday. Mic.ro stores have been facing difficulties for several months now due to outstanding debts to suppliers and banks. At present, many of the  Mic.ro stores are displaying empty shelves while others were simply closed after the rent was not paid.
The announcement comes only two weeks after Minimax Discount, a discount chain bought by the businessman in 2010, has also filed for insolvency.
Among the company's suppliers that have asked for Mic.ro Retail's insolvency there are Romaqua Borsec, Dorna Lactate, Dr. Oetker, Vel Pitar, Ocean Fish and more recently Tiriac Auto, the company owned by local businessman Ion Tiriac.
Suppliers accuse Patriciu of having financed the expansion of the Mic.ro network from their money, as Mic.ro paid them more than 240 days late.
Mic.ro stores were launched in October 2010 with big ambitions for the future.  "If I have a wish, it is that the commerce imported piecemeal from the West should die," said Patriciu at the time. The businessman previously announced EUR 200 million of investments and plans to open 1,000 fixed shops and 2,000 mobile units by the end of 2011.
Things, however, have not moved as swiftly as he had initially hoped.  In September 2011 there were about 830 Mic.ro stores and 58 Macro (former Minimax stores) and miniMax outlets. Macro and Minimax stores are operated by Patriciu's Mercadia Holland company.
Plans to sell the business
This January Mediafax newwire was announcing that Patrciu is negotiating the sale of Mic.ro or a possible association with 7 Eleven, the largest proximity store operator in the world.
"Negotiations with 7 Eleven started in the autumn of 2011 and will be finished by March 2012. There is talk of a possible EUR 60 million capital infusion into the Mic.ro network," markets sources told Mediafax. 7 Eleven was founded in 1927 in the USA and now operates 43,500 stores in 16 countries.
Dinu Patriciu was named as Romania's richest businessman for the third consecutive year in 2011, according to the Forbes rich list, with a fortune estimated at EUR 2.2 billion. Patriciu, who has investments in media, energy, real-estate, banking and IT&C, made most of his money by selling oil company Rompetrol to Kazakhstan's state-owned energy operator KazMunaiGaz in 2008.
Simona Bazavan