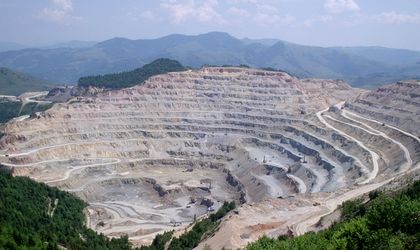 UNESCO has decided to postpone the listing of Rosia Montana among its World Heritage sites, as a result of a request by the Romanian Government, according to a statement by Romania's Culture Ministry.
The decision said that the case would be postponed "due to ongoing international arbitrage". The only state that initially opposed the decision was Hungary.
The Culture Ministry's statement notes that it is a postponement and not a withdrawal of the file from UNESCO. The reason is the ongoing case Romania is involved in at the Washington Arbitrage Court, against Gabriel Resources, the majority shareholder of Rosia Montana Gold Corporation.
The statement read: "During the debates, after the reasons why the Romanian government is requesting the postponement were presented, representatives of several states saw the request as legitimate. Spain's representative said she would support the proposal, if legally this decision will bring the best result for Romania in the arbitrage case, while Indonesia's representative said that after analysing the documents, he sees Romania's decision as justified, and that it is 'unusual, but admirable'. At the same time, China noted that a similar case related to a postponement was put up for debate by Canada during the 40th session of the World Heritage Committee that took place in Turkey, and that Romania's request is not a first."
Opposition party USR have criticised Romania's decision to postpone the inclusion of Rosia Montana on the World Heritage list.
"It is Romania's most shameful moment since it entered UNESCO. All countries were going to vote for inclusion, nobody would have had any objection. Nobody, besides Romania. The interests of a corporation and a political class that sold out 20 years ago were more important than the national interest. Through this move, the government has betrayed Romania's interests," said USR senator Vlad Alexandrescu, who was present at the UNESCO World Heritage Committee's debates.