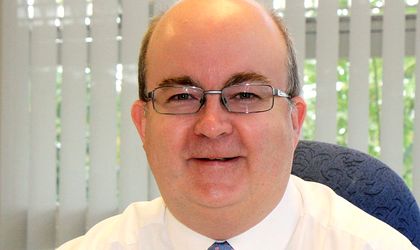 The United Kingdom will leave the European Union, but will remain close to European affairs and committed to the special partnership with Romania, the British Ambassador to Romania Paul Brummell said on Thursday in his end of mandate press conference. He pointed out that the rule of law and a good justice system are important for the cooperation in fighting cross-border crimes between the UK and Romania.
The British ambassador is ending his four-year term to Romania and will take a job dealing with "soft power" at the Foreign Office in London.
"We have a very important bilateral cooperation with Romania in the field of security and justice, in the fight against human trafficking, drug trafficking and other cross-border crimes. It is important that reforms (of justice) help such international collaboration and not make them harder," Brummell told journalists.
On June 28, 12 partner countries – the United States, Belgium, Canada, Denmark, Finland, France, Germany, Luxembourg, the Netherlands, Norway, Sweden, and Switzerland – have launched a joint call for Romania to avoid changes to criminal law that could weaken the rule of law or the anti-corruption fight.
The United Kingdom didn't sign the statement of the 12 partner countries, which said: "We, Romania's international partners and allies, call on all parties involved in amending Romania's criminal and criminal procedure codes to avoid changes that would weaken the rule of law or Romania's ability to fight crime or corruption."
The British ambassador didn't want to comment the changes to criminal law by the Romanian Parliament and said that he expects an analysis of European Commission on the new law.
The ambassador indicates that the UK will remain close to Europe after Brexit.
"We leave the EU, but we remain in Europe," he said.