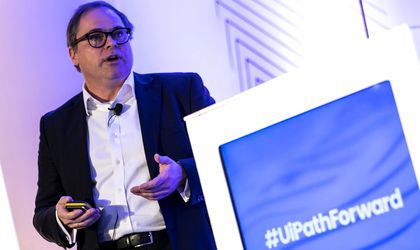 UiPath will open in Bucharest the first of its six upcoming Automation First Immersion Labs, designed to provide its customers and partners with hands-on experience in the field of enterprise RPA and AI. The lab will open by year-end and will be followed by others in Bangalore, London, New York City, Seattle, and Tokyo. The announcement was made on Tuesday at the UiPath Forward EMEA event in London, where Business Review was granted exclusive access.
The Immersion Labs will be built with pre-installed and ready-to-use showcases involving emerging technologies from the UiPath partner ecosystem. Led by UiPath Chief Robotics Officer, Boris Krumrey, the labs are part of the UiPath Global Services operation and are designed to help UiPath's existing and prospective customers explore how to automate business processes and make the move to a "digital business operation" a reality.
"Clients are in different stages of their RPA journey. But most customers, in the beginning, cannot imagine what automation can do. It seems very simple because they know robots are the eyes and hands of the human employee but it's still difficult to picture," Boris told BR. "But when they start to create their own process automations, they see the simplicity of creating them" he explained.
According to Boris, the labs provide the physical setup needed to create an immersive experience for current and prospective clients as well as act as a venue for training. "We offer a whole day of immersion for business people and process owners, and key stakeholders who want to understand automation in all its forms," the UiPath Chief Robotics Officer told BR. "Existing clients who are past the first wave of automation can explore how they can go beyond and scale it. We help customers strengthen their RPA journey. As for partners – here we can experiment with their technologies with UiPath and jointly produce content for UiPath's Go! marketplace. We can run programs for students as well, as part of our education program," he explained.
As for his new role, he added: "People always asked what a Chief Robotics Officer actually does and my explanation was always quite generic in connection with the product organization. But the original idea was rather connected to the Robotic Process Automation Transformation in the same way as there is the role of a Chief Digital Officer. With the Automation Immersion Labs, we can demonstrate and offer customers to experience the art of the possible of Automation tailored to what they need. It feels like the true destination of my role."
"Automation First Immersion Labs are the ideal playground for customers and partners to rapidly develop new business ideas that can be tested to envision the automation beyond RPA," Param Kahlon, Chief Product Officer of UiPath, also said.
"Customers are eager to explore AI and related technologies but find it difficult to imagine the possibilities beyond their existing RPA operation," said Mike Binder, Vice President of Global Services, UiPath. "Our Automation First Immersion Labs simulate an experience of what lies ahead in automation; empowering our customers and partners to make informed decisions to advance to the next level of their business strategy."
The Automation First Immersion Labs will offer an ideal facility to conduct deep-dive workshops with customers and partners on Automation Technologies with Machine Learning as well as Business Process improvements. Drawing on UiPath best practices, joint teams will build and test showcases in various lab environments. Outcomes will be recorded and documented for further re-use.
The Labs will also be used for conducting UiPath Academy Live training and streaming live webinars about new product highlights and solutions with new showcases.