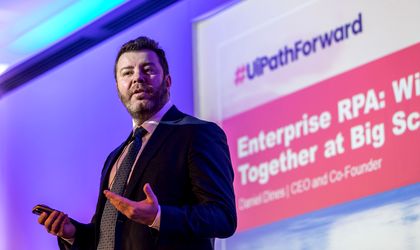 Enterprise Robotic Process Automation (RPA) UiPath, the first Romanian unicorn, opened its second office in Romania. The move came after the purchase of the Smart Data Platform from Recognos, a Cluj-based software company.
The new Cluj-based team, is built around the original Recognos team and is led by its former manager, Andrei Roth. Recognos has 18 years of experience on the market.
The .NET team will be involved in software development for the UiPath platform, and the RPA developers will support implementation and UiPath partners in German-speaking country.
"The UiPath office in Cluj is the most recent presence in our global operations, which are continuously expanding. The idea to create a team here became obvious given the offer of IT talent," Daniel Dines, UiPath CEO and co-founder said. "It is the fourth UiPath developers hub, and the bright minds in Cluj will work as part of a truly global team alongside our experts in Bucharest, Bellevue in the US, and Bangalore in India, he added."
"I believe the talents of Cluj fully deserve the unique work environment and the company culture that UiPath are offering. RPA is revolutionising the concept of working itself, and UiPath is a visionary company, in the first rank of this global phenomenon. The UiPath expansion on across almost all continents is led by dedicate professionals who know that our local team will significantly support the expansion of our first unicorn," Andrei Roth, UiPath's Cluj office manager said.
According to the company, the Smart Data Platform within the UiPath Platform will allow for a simpler and rapid extraction from unstructured data sources.