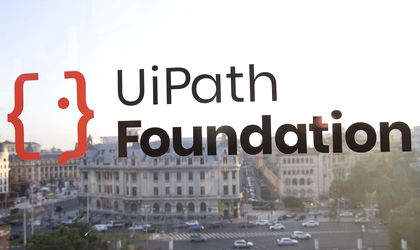 Robotic Process Automation software company UiPath has announced the official launch of UiPath Foundation, which aims to give those in underprivileged areas material support and access to digital-era skills.
More than 3,700 enterprises and organizations worldwide have benefited from the advantages of automation, and 400,000 people from 200 countries have been trained by UiPath to fill new positions created by the fast advance of RPA technology, the company says.
The UiPath Foundation aims to provide equal opportunities through co-designed educational solutions, focusing on giving children the skills and tools to reach their highest potential. Starting with children in Romania and India, the foundation will gradually enlarge its geographical reach to provide support to vulnerable communities worldwide.
By the end of this year, underprivileged families in Ilfov, Cluj, Galati and Vaslui counties will receive a 360-degree support package meant to facilitate their children's access to education. This will include scholarships, educational materials, medical services, clothing, and food.
Through its programs, UiPath Foundation aims to positively impact the lives of 500,000 children worldwide by 2025.
UiPath Foundation's core programs are built on four main cornerstones:
The Future Acceleration Program –  identifying children and teenagers from communities that experience poverty and exclusion in Romania and India (aged 11 to 16); activating their potential through a long-term 360-degree support system that addresses the challenge of child deprivation;
Early Education Forward – centered on building support networks for the benefit of children at risk of remaining behind due to lack of access to high-quality education at an early age;
Nurture teachers' potential – develop educators' ability to create empowering educational experiences aimed at unleashing the potential of children and teenagers struggling with poverty;
Build long-term impact – create a far-reaching collaborative platform that engages business partners and other NGOs to embark on the foundation's global mission to empower talented youth.
"It is our strong belief that education sets the path out of poverty; therefore, we have designed a 360-degree support system, mindful of the complex needs faced by children from poor families in their journey to a better future. Our child-centered approach is designed taking into consideration the entire ecosystem – family, school, community, and we are driven by a collaborative mindset. We also aim to increase access to digital devices and to make use of technology as a means for access to quality education," said Raluca Negulescu-Balaci, the Executive Director of the UiPath Foundation.
"There are few things more rewarding today than to see someone reaching their full potential. That is why sharing is one of our primary goals. With the help of every UiPather, current partner NGOs and those who join us in the future, through the UiPath Foundation, we will reach those children who most need support and quick access to education," added Daniel Dines, Co-founder and CEO of UiPath.
In Romania, UiPath Foundation is joined by several strategic local NGO partners: Teach for Romania Association, the Policy Center for Roma and Minorities, "Buna ziua, copii din Romania!" Association, "Inima de Copil" Foundation and OvidiuRo Association.