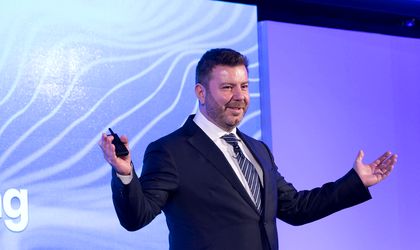 At UiPath's first event dedicated to its community of partners held in London today, Daniel Dines, CEO and co-founder of the Robotic Process Automation (RPA) services provider, laid out the company's plans to kick-start an initiative designed to educate and 'empower' one million students worldwide by providing them with training in the field of RPA. The initiative is part of UiPath's drive "to have one robot for every person," which Dines outlined at the company's first global customer event held early October in Miami. 
UiPath Partner Forward EMEA, a closed meeting designed for Uipath's partners, precedes the company's main yearly event dedicated to the EMEA space, UiPath Forward, to be held in London on October 30. Business Review had exclusive access to today's event, the first such meeting, which gathered an audience of 400 representatives of the company's global community of partners. 
In his keynote speech, Dines stressed that RPA adoption by businesses worldwide is part of a global movement transforming the future of work in an irreversible way. "This is not a fad. People won't go back," he said. His company, which he founded in Bucharest but is now headquartered in New York, has been at the forefront of automation since the early days of the emerging RPA market. "We now see that this is something bigger than we first imagined. I feel like I am climbing a mountain and the horizon is continuously expanding," Dines said, adding that the company he is heading, the current RPA market leader, has exceeded that of any company in recent history. 
Automation to create 60 million jobs 
"Automation itself was a goal since the dawn of computers. None of the technologies graduated to that goal. I came to the realisation that RPA is a way to enable the last mile of automation," he noted. According to Dines, in the future, robots will be more and more humanlike. "This is nothing to be sacred of," Dines argued. "The result will be that workers will be empowered, and their job security will increase. Currently, up to 70 percent of an employee's tasks are repetitive, and if you remove that the value of the jobs will increase," he explained. "I've seen studies that say that automation will lead to the net creation of 60 million jobs. That is kind of inevitable because that's how evolution works."  
Every modern human being should have some knowledge of RPA
"We plan to empower one million students in three years from the US, the UK, India and beyond," Dines said. In order to reach this goal, UiPath has devised a Higher Education Program, which equips students with key automation skills and unites students with engaged employer networks, enabling the former to better understand how RPA can be applied in business settings. Alongside, the company will also implement an Automation Educators Program, which provides teaching staff in high schools and universities with toolkits to develop course plans focused on RPA and AI. In addition, a program designed for elementary and middle school-age students called Youth in Automation Program will provide an introduction to RPA through interactive games and demos.
"Today's students will be the next wave that will deliver a robot on every desktop," Dines said, adding that, in his view, "every modern human being should have some knowledge of RPA."