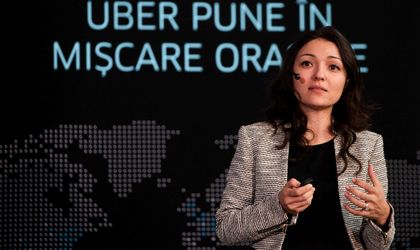 Technology start-up Uber is looking to launch UberPool in Romania in the next year and a half, according to Nicoleta Schroeder, the general manager of the local operations.
The new service allows user to share the ride and split the cost of a trip with another Uber rider headed in the same direction.
The GM of Uber Romania said that the app reached 250,000 users in 2016, growing three fold year-on-year. The app is currently available in four Romanian cities, including Bucharest, when it first launched in February 2015. The Romanian capital remains the core market for Uber.
Now, Schroeder said that UberPool will support the company's ambition to reduce the car traffic in Bucharest by one third by 2020. According to her, there are around 1 million cars on the streets in Bucharest daily.
"Today we are able to cover the demand from suburbs," said the executive, on the operations in Bucharest.
Talking about the way in which Uber is being used in Bucharest, the GM explained that there is high demand during weekdays and during the nights on weekends.
Asked about the trials in which Uber is involved, she said that several partner drivers in Cluj-Napoca won cases in court against the authorities that fined them. The company is also battling the taxi industry in the same city and up to now has won the right in court to continue to operate in the city.
An IRES survey commissioned by Uber has shown that 9 out of 10 people aged 18 to 35 use digital services and 85 percent of them recommend them to other people. The study had a sample of 1,118 respondents and the interviews were carried out in January 2017 in Bucharest and Cluj-Napoca.
Romania doesn't have at this moment any legislation in place for companies providing ride-sharing services, but the GM of Uber Romania said that it was willing to work with authorities to regulate this service on the local market.
The GM added that UberEats, the food delivery service of the company, will be launched locally in the second part of this year.