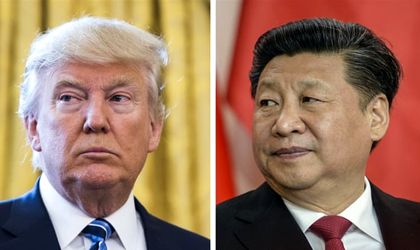 Two days of U.S.-China trade discussions ended in Beijing on Friday with an agreement to keep on talking, and little else, according to Bloomberg.
China's official Xinhua News Agency reported Friday afternoon that both sides reached a consensus on some trade issues, without providing details. They also acknowledged major disagreements on some matters and will continue communicating to work toward making more progress.
The U.S. delegation, led by Treasury Secretary Steven Mnuchin, asked China to decrease the trade deficit by at least $200 billion by the end of 2020 compared with 2018, according to a document sent ahead of the trade talks in Beijing that was seen by Bloomberg News. By early afternoon Friday neither side had flagged plans to give a briefing on the discussions, and the American team was scheduled to depart Friday evening.
 Earlier, Mnuchin said that the U.S. and China had been having a "very good conversation," without elaborating. While China hasn't indicated any detail on what it may be prepared to agree to, a senior official sounded a defianttone ahead of the meeting, and the state news agency warned against "unreasonable demands." Foreign ministry spokeswoman Hua Chunying said at a Friday afternoon briefing there's no specific information on the talks.
The closed-door discussions between President Donald Trump's economic team and officials in Beijing began Thursday, amid a ban on China's largest media outlets reporting any material beyond official press releases related to the talks, according to people familiar with the matter.