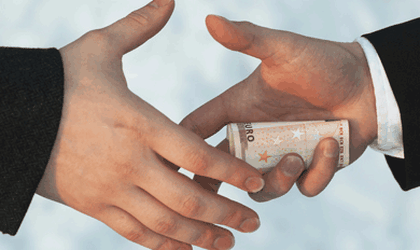 The Police Officers made additional searches in the case of bribery for the employees of the Loan Guarantee Fund (FNGCIMM), suspected to have received money in order to prioritize some Prima Casa files. The searches were made in Bucharest and Ilfov at the headquarters of a company specialized in financial consultancy.
The Officers got to the company and its general manager that is under suspicion for fraud and tax evasion in the investigation for the original case, in which one person was already taken into custody and other nine are under judicial control.
On July 19, the cops made 23 searches for the case and 60 people were heard, with two of them being accused of buying influence. The bribe required by employees to urgently resolve the dossier received for the Prima Casa progam was between EUR 200 and EUR 500.
"On 19.07.2018, starting with 9.00 am, in a file of the Prosecutor's Office attached to the High Court of Cassation and Justice, under the coordination of prosecutors within the Criminal Investigation and Investigation Section, the police officers of the IGPR Investigation Division of Economic Crime, implement 23 home search warrants, in Bucharest and Ilfov County, at an institution of public interest, at the offices and residences of several employees, investigated in terms of committing corruption offenses. From the evidence used so far it has been established that the investigated persons are used to condition the speeding up of the fulfillment of the acts that come into their duty to receive money," communicate General Prosecutor Office at the time.