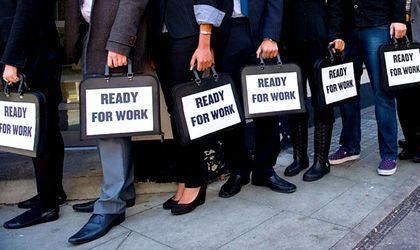 In the first quarter of 2017, 66 percent of the Romanian employers don't anticipate any change in the employees number, while 19 percent of the companies' representatives expect increases in the number of employees, according to the study of the HR consultancy Manpower, published on Tuesday. The workforce demand is higher in Western region, which includes the developed counties, such as Timis and Arad, while Oltenia is the region with the lowest number of job offerings.
Only 19 percent of the 625 interviewed employers from Romania expect a growth in the number of employees, 13 percent expect decreases and 66 percent expect a change.
"The employers continued to be optimistic for several quarters in row, reporting hiring forecasts of two digits in the last six quarters, which illustrates a dynamic labor market. The hiring perspectives for the first quarter of 2017 are the strongest from the Romanian study, which means more opportunities for those in search for a workplace, which indicates an intense competitiveness for employers, on a market already effected by the talents deficit," said the strategic marketing director for Europe within ManpowerGroup, Corina-Bianca Gonteanu.
On regions, the higher employment intentions for the first quarter from 2017 are among the companies from the Western region, including Timis, Caras-Severin, Hunedoara and Arad counties.
On the other hand, in South-Western Oltenia region are the lowest hiring perspectives for the first quarter of 2017, with expectations of 5 percent.
The research also shows that during January- March 2017, the total number of employees might increase in eight of the ten activity sectors analyzed and in seven of the eight regions of the country.
The employers from the manufacturing industry have the most optimistic forecast from the analyzed industries.
Georgiana Bendre