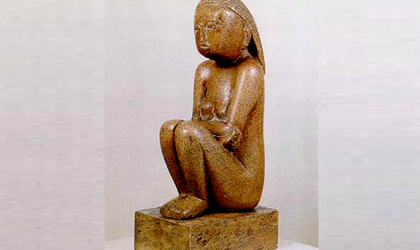 On September 18 Romania's public broadcaster TVR is to hold a national telethon to raise funds for the purchase of Wisdom of the Earth, a seminal work by Romanian sculptor Constantin Brancusi.
The announcement was made on August 24 by Government spokesperson Liviu Iolu. "On September 18 TVR will host a national telethon, which, the Government hopes, will gather all necessary energies to raise the amount agreed upon with the owners. (…) It is a marathon telethon and we are expecting as many people as possible to donate for this campaign to purchase the 'Wisdom of the Earth'." Iolu said at the Victoria Palace.
According to Iolu, the pace of the fundraising campaign has picked up of late. "Right now there are more numerous and more consistent donations," he told Agerpres.
Constantin Brancusi' Wisdom of the Earth can be purchased by October 31. The Government's fundraising campaign, which aims to attract from individuals as well as private companies six out of the EUR 11 million to be paid to the owners, will end on September 30. On August 15 the amount raised by the national fundraising campaign stood at EUR 562,117.
Georgeta Gheorghe