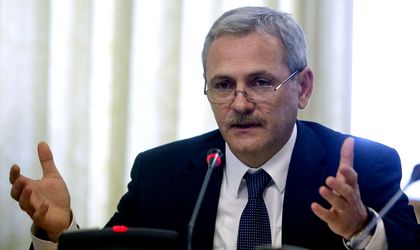 The head of the Social Democratic Party (PSD), Liviu Dragnea, said on Wednesady that the planned turnover tax – replacing the profit tax– and solidarity tax from the governing program won't apply if "they affect the firms that act correctly" or if the expected positive effects won't appear.
Dragnea said that he had a concrete discussion with PM Mihai Tudose "yesterday and last evening" at the reception of USA Embassy and afterwards "for two hours". There were already opposite discussions between Dragnea and Tudose on the Governing program.
"There are already concerns from the point of view of Parliament majority, of Government, that all the companies which work in Romania to pay taxes correctly at the forecasted level. That doesn't mean that the two-three possible measures won't be discussed. There won't be any measure applied until we have detailed analysis and simulations," said Dragnea.

He said that the measure of turnover tax and aims  to "reveal possible profit transfers" but "if they affect the firms that act correctly, the measure won't apply".
The PSD head also added that he discussed with Calin Popescu-Tariceanu, the head of ALDE, and " the points of view are the same". Dragnea blamed the fact that "there were some tense days" on communication, "that wasn't very good" but now "things are clear, it's the same approach".
On the solidarity tax, Dragnea there will be "an analysis process, simulation, discussions and if the positive effect is not justified, it won't be applied".
Meanwhile, the Foreign Investors Council (FIC) issued a statement following contradictory statements from the ruling coalition on the planned changes of taxes.
"Policy makers need to be aware of the power of words. What they say in public can move markets and affect investment decisions. Repeated announcements of tax increases or reductions, of substantial changes in fiscal regimes only serve to create an economic environment where uncertainty is the norm. For investors assessing new projects, this can only mean a postponement of projects until things clarify or a decision to invest in another country," said the FIC, which represents companies with 182,000 employees and a combined turnover of around RON 180 billion.