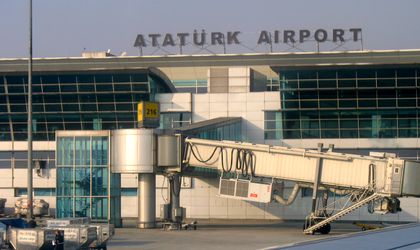 According to the Consulate General of Romania in Istanbul, none of the Romanian citizens who were at the Ataturk Airport at the time the attacks occurred is injured, except for one individual who has ecchymosis on the lower limbs.
The Consulate General of Romania in Istanbul is providing assistance to around 40 Romanian citizens who requested the support of the Romanian authorities in the aftermath of the deadly Istanbul Ataturk Airport attacks. In addition, the Consulate is in contact with the families of over 20 families of Romanian citizens who were in the airport at the time the attacks occurred.
According to the Romanian Ministry of Foreign Affairs (MAE), the Romanian citizens in Istanbul who asked for assistance were accommodated in hotels around the airport. 
According to a statement posted on the MAE website, the Romanian authorities are making efforts to find the best solutions to repatriate Romanian citizens whose flights were canceled. The Ministry announced that the institution is permanently monitoring the developments and, should there be a need for it, a consular team is on stand by and is ready to fly to Istanbul to provide Romanian citizens with assistance.
According to the MAE, Romanian citizens and their relatives can contact the Consulate General of Romania in Istanbul at the phone numbers +90 2123583541, +90 2123580516, +90 2123583537. The calls will be redirected to the Contact and Support Centre for Romanian Citizens Abroad (CCSCRS) and taken by operators 24 hours. The emergency office of the Romanian Consulate in Istanbul can be reached at + 90 5335420695. Romanian citizens at Ataturk Airport made 10 calls to the MAE call center, the MAE states.
In a Facebook post, the MAE announced that international flights at the Ataturk Airport were resumed, and warned that security measures put in place by the Turkish authorities might delay the usual proceedings.
The Ministry of Foreign Affairs is in permanent connection with Turkish authorities via the Embassy of Romania in Ankara and the Consulate General in Istanbul in order to check whether the 41 victims reported so far by the authorities include any Romanian citizens.
On June 28, the Ataturk Airport in Istanbul was hit by several coordinated bomb and suicide attacks that killed 41 and injured more than 230. 
Georgeta Gheorghe