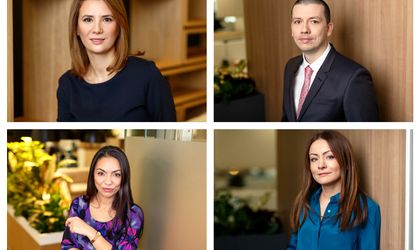 Law firm Tuca Zbarcea & Asociatii has appointed four partners and seven senior associates in its annual round of promotions. The appointments are effective from January 1, 2017.
The firm has added four partners to its ranks, while promoting seven other lawyers in its Bucharest office in a bid to further strengthen the firm's Banking and Finance, Litigation and Arbitration, as well as Corporate and Commercial, Real Estate, and Employment Law practice groups.
The firm's new partners are Gabriela Anton, Oana Gavrila, Horia Ispas and Anca Puscasu, all lawyers with extensive experience in the profession, which they combine with strong leadership and project management skills gained in their capacity as members of the firm's elite group of Managing Associates over the past few years.
The firm separately promoted seven lawyers to the role of Senior Associate, namely Veronica Aman, Roxana Catea, Tudor Craciun, Gabriela Dinu, Valentin Moga, Cornelia Tabirta and Eugen Tudose.
Tuca Zbarcea & Asociatii now boasts 112 lawyers, including 29 Partners as of January 2017.
Gabriela Anton, now a Partner at Tuca Zbarcea & Asociatii, has more than 15 years of experience in the legal profession and specialises mainly in banking and finance, and mergers and acquisitions in the banking sector. Gabriela has advised credit institutions, investment funds, and other international financial institutions, as well as borrowers, on a wide range of transactions, such as project finance and corporate finance in various industries. She has also been involved in mergers and acquisitions, privatisations, restructuring projects and the transfer of banking assets, including non-performing loan portfolios. Her other areas of practice are corporate and commercial law. Gabriela Anton graduated from the Faculty of Law at the University of Bucharest and the College of Law for European Studies of the University of Paris I Pantheon Sorbonne in 2000.
Oana Gavrila is a Partner at Tuca Zbarcea & Asociații and a pleading lawyer with 12 years of experience before the courts, up to the High Court of Cassation and Justice, Romania's supreme court. She has represented clients in contentious-administrative cases, mainly tax and customs related disputes, devising the strategy prior to initiating legal action, drawing up of all procedural documents and providing legal representation in court. Furthermore, she has acted in contractual claims and tort liabilities cases, as well as civil disputes and labour related cases. A graduate of the University of Bucharest's Faculty of Law in 2003, Oana Gavrilă was admitted to the Bucharest Bar in 2004. She is also a Certified Expert in Public Procurement.
Horia Ispas is a Partner in the firm's corporate and mergers & acquisitions practice groups. For the past 12 years, he has advised on private mergers and acquisitions, as well as privatisation projects involving major state-owned companies, having drafted and negotiated the underlying documentation such as shares sale and purchase agreements, joint-venture agreements, pledge agreements, etc. He also has a vast experience in complex corporate operations, including specific operations of companies listed on the capital market. Other areas of particular focus for him are personal data protection and consumer protection. Horia Ispas has graduated from the University of Bucharest's Faculty of Law in 2003 and has been a member of the Bucharest Bar since 2004. He is a Certified Expert in European Structural and Cohesion Funds.
Anca Puscasu now a Partner at Tuca Zbarcea & Asociații, has 16 years of experience mainly in commercial arbitration under the rules of the ICSID, ICC, GAFTA and VIAC, whereas she has prepared the written statements for the arbitral tribunal, investigating factual issues and events that are relevant to cases, preparing and participating in oral hearings before the arbitral tribunal, etc. Her practice includes advising on various mergers and acquisitions projects, as well as on corporate and commercial law: the establishment and structuring of commercial companies, consultancy in corporate management, including by adjusting various management and operational structures, as well as legal assistance and representation in corporate disputes, labour law and various intellectual property matters. Anca Puscasu graduated from the Faculty of Law at the University of Bucharest in 1999 and was admitted to the Bucharest Bar in 2000. She also has a Project Management certification.
Georgeta Gheorghe