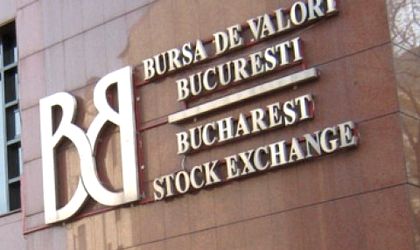 The total value of transactions from the previous week at the Bucharest Stock Exchange (BVB) was RON 197.02 million, out of which RON 188.5 million were shares transactions, a growth of 55.91 percent compared with a week before, according to an analysis of Puls Capital.
The most important exchanges were on Banca Transilvania shares, valued at RON 82.85 million, Fondul Proprietatea RON 34.33 million and Romgaz RON 25.79 million.
The transactions with structural products were worth RON 8.4 million and the ones with bonds RON 90,000, while the ones with fund units RON 30,000. On deal market there were exchanges valued at RON 44.96 million.
The previous week the stock exchange indexes registered negative evolutions, between -4.03 percent ROTX index and -1.32 percent BET-FI index.
In the mentioned period, 16 titles had positive evolutions, 15 were slackened and 44 had negative evolutions. The biggest growths were registered on Bermas, BVB and Mecanica Ceahlau shares, of 9.21 percent, 5.71 percent, respectively 5.31 percent. The most significant drop was in Teraplast shares, of 28.75 percent, followed by Retrasib and Alro shares, of 14.87 percent and 12.84 percent.
Georgiana Bendre